By Glenda Willie in Port Vila
Voters in Vanuatu will be given the opportunity to vote for political reform laws in the country's first ever referendum in June this year.
The Chairman of the Task Force on the Constitutional Review, Minister Ralph Regenvanu explained that the voting process would be similar to the general elections.
All eligible voters will vote in the existing polling stations. According to the Task Force Chairman, on voting day which is June 4, 2019, a question in relation to the reform will be asked.
READ MORE: Public consultation on Vanuatu political reforms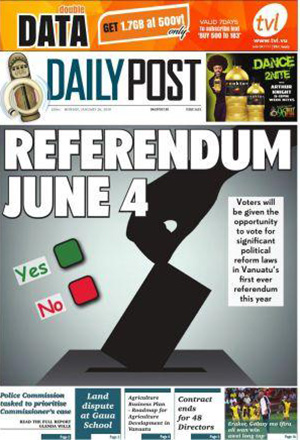 "Those who agree with the question will indicate their answer with a green card and those who disagree with a red card," he told the Vanuatu Daily Post.
Minister Regenvanu confirmed a budget had been secured for the national referendum.
There is also a budget for mass national awareness into this historic event.
"This week the government will commence with the consultations with national institutions such as the Vanuatu National Council of Women (VNCW), Vanuatu Christian Council (VCC) and all the provincial centers prior to the final national consultation on Political Parties Bill which is scheduled to take place at the Chiefs' Nakamal on February 22, 2019," he said.
'Mass awareness'
Regenvanu further stated that based on the outcome of the final consultation, the bill and constitutional amendment would be taken before Parliament in March to be passed.
"Once it's passed, we will organise the national mass awareness ahead of the referendum. The awareness will take place in April and May."
A timetable has been prepared on the consultations schedules of all the respective provincial centers. The consultation in Shefa Province will be held on January 31 at the Shefa Provincial Headquarter.
Minister Regenvanu is currently conducting consultations on this proposed political reform law in his capacity as a Member of Parliament for the Port Vila Constituency.
Prime Minister Charlot Salwai initially asked all MPs to consult with their constituencies and obtain their views regarding the proposed package when he introduced the proposed political reform package in Parliament last December.
This is part of the government's efforts to introduce laws for the purpose of reducing political instability and enhancing the integrity of Parliament and its members.
The proposed political reform package consists of one new law, an amendment to the Constitution, and amendments to two existing laws.
The four proposed Bills are:
A new law, the Bill for the Political Parties (Regulation) Act
An amendment to the Constitution, The Constitution (Seventh)(Amendment) Act
Bill for the Representation of the People (Amendment) Act
Bill for the Charitable Associations (Incorporation)(Amendment) Act
Glenda Willie is a Vanuatu Daily Post journalist. This article is republished with permission.