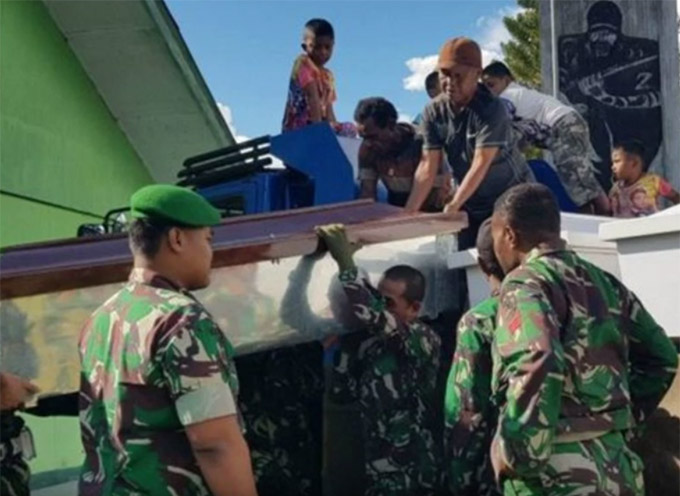 By Ray Jordan in Lampung, Indonesia
President Joko "Jokowi" Widodo insists that work on the Trans-Papua road project will continue despite this week's shooting of construction workers in the Papua regency of Nduga.
Widodo is asking that all infrastructure projects and Trans-Papua construction workers always be accompanied by security personnel.
For the moment, Widodo said that the government would prioritise the evacuation of the victims of the shooting by the West Papuan Liberation Army that is regularly branded by the authorities as armed criminal "separatists".
READ MORE: West Papua independence leader urges calm after killings
"Yes this is because there is still a process there that isn't finished yet, we will prioritise the evacuation as quickly as possible. After that construction will continue", Widodo told journalists at the Mahligai Agung Convention Hall at the Bandar Lampung University in Lampung City, North Sumatra.
According to The Jakarta Post, the casualties include 19 workers of state-owned construction company PT Istaka Karya, who had been assigned to build a 275 km section to connect Wamena and Mamugu as part of President Widodo's flagship trans-Papua road project.
One Indonesian Military (TNI) soldier was also killed.
But the West Papua National Liberation Army (WPNLA), which claimed responsibility for the attack and said 24 people had been killed, alleged the workers were in fact soldiers in disguise, according to RNZ Pacific.
The militants have demanded negotiations on independence.
Independence rallies
Last Saturday, as members of the Liberation Army held a ceremony to commemorate Papua's independence from Dutch colonial rule on December 1, 1961, as part of many rallies across Papua, Indonesia and internationally, a worker was said to have snapped a photo of the scene.
This enraged the militants.
In Sumatra, President Widodo said that wherever construction work was being carried out in Papua, workers must be accompanied by security forces in order to provide a sense of safety.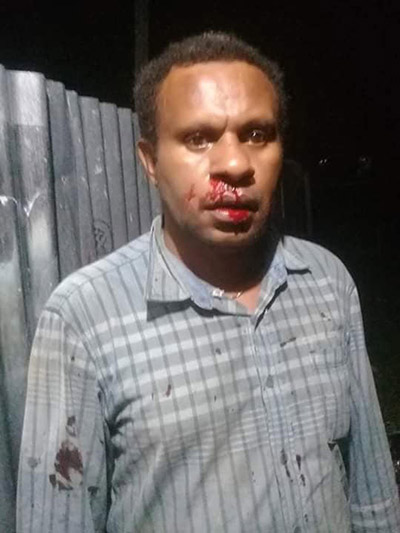 "I want to convey that wherever construction work is going on it is always accompanied by security personnel in order to truly provide security guarantees for workers who are working in the field, in the jungles, in preparing infrastructure, particularly roads in the land of Papua which will never stop, but will continue regardless," he said.
Widodo said the government's goal was to continue development in Papua in order to create a sense of social justice in eastern Indonesia. Widodo said he wanted all of Indonesian society to experience this development.
"This is to provide infrastructure in the land of Papua and secondly also social justice for all Indonesian people to address the discrepancies in infrastructure between Java and Papua, between the east and west, that is what we can truly pursue", said Widodo.
Earlier, national police chief General Tito Karnavian claimed that the West Papua Liberation Army led by Egianus Kogoya numbered no more than 50 people who had around 20 firearms.
'Diplomatic' resolution
The Guardian reports that Benny Wenda, the chair of the United Liberation Movement for West Papua (ULMWP), said it was hard to know exactly what happened at Nduga, amid conflicting reports on the long-running tensions, and without free access for media or human rights groups.
Indonesian authorities had not responded to requests for comment from The Guardian.
Wenda told The Guardian he could not stop the liberation army but wanted to tell them the UMLWP wanted to solve the issue "diplomatically".
"We don't want any bloodshed, we want Indonesia to come to the international table to discuss and we can agree to a referendum That's what our campaign is about," he said.
Sebby Sambom, spokesman for the WPNLA, the military wing of the Free Papua Movement (OPM), said in a telephone interview that they attacked a government construction site last weekend because they believe the project is conducted by the military, according to Jawa Pos TV.
"Trans-Papua road projects are being carried out by Indonesian military and that is a risk they must bear," Sambom said.
"We want them to know that we don't need development, what we want is independence."
According to Wenslaus, John Pakage, a freelance journalist who was also a former Reuters and Tabloid Jubi journalist, was beaten by members of the Indonesian Mobile Brigade Corps and his family threatened.
Detik News translated by James Balowski for the Indoleft News Service. The original title of the article was "Jokowi Minta Pekerja Trans Papua Selalu Didampingi Aparat Keamanan".