US Marines arrive in Port Moresby on board USS Green Bay. Video: EMTV News
Pacific Media Centre Newsdesk
More than 500 US marines and US Navy servicemen have arrived in Papua New Guinea to bolster a massive security operation as the country counts down to the Asia-Pacific Economic Cooperation (APEC) leaders summit this weekend.
The security forces arrived on Tuesday on board the USS Green Bay, reports EMTV News.
This is the second time a US warship has visited PNG in two months.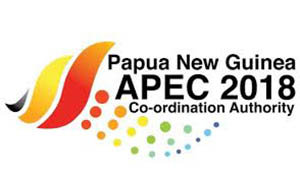 In October, guided-missile destroyer USS Michael Murphy visited Port Moresby, following visits by the US Under Secretary of the Navy Thomas Modly in September and the chief of the US Indo-Pacific Command, Admiral Phil Davidson, in August.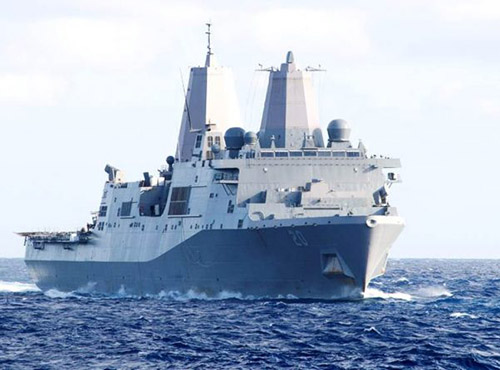 The USS Green Bay is expected to deploy Huey helicopters in the area over the next few days as part of their preparation to support APEC.
USS Green Bay is a San Antonio-class amphibious transport dock ship that was commissioned by the US Navy in 2009. It is deployed to Sasebo, Japan, as part of the Amphibious Force 7th Fleet.
'Last paradise on earth'
Meanwhile, the Post-Courier reports today that Prime Minister Peter O'Neill told international media APEC host nation Papua New Guinea was the "last paradise on earth".
Many international journalists had written and published "cheeky articles" about a poor country like Papua New Guinea hosting one of the biggest global meetings ever – the 2018 APEC summit.
When asked to respond to reports that detailed that PNG as poor, the prime minister replied: "Do we look poor?"
He continued: "Everybody is entitled to their views, they can say whatever they want but we are rich in culture, we are rich in history – thousands of years of history, in fact – diverse in our population, diverse in our ethnic grouping, best country in the world, last paradise on earth.
"So if they don't want to come, well bad luck, if they want to come and visit us more, we welcome them with open arms," he said proudly.
The Pacific Media Centre republishes EMTV News items with permission.