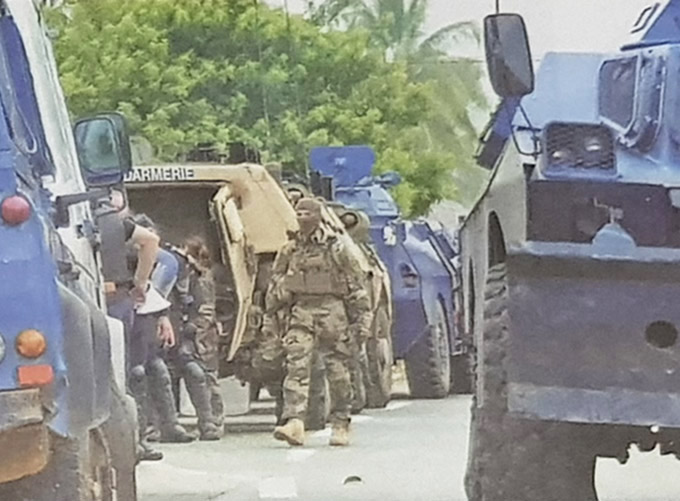 By David Robie in Nouméa
French security forces moved in today to clean up the main road near an indigenous Kanak tribal area after a day of tension and rioting failed to mar a lightning visit by French Prime Minister Édouard Philippe and post-independence referendum discussions.
Philippe flew in yesterday morning from Vietnam for a day of meetings with political leaders, customary chiefs and voting commission officials to take stock of the historic referendum on Sunday.
While the people of New Caledonia voted to remain French with a resounding 56.4 percent of the vote, it was a lower winning margin than had been widely predicted in the face of an impressive mobilisation by pro-independence groups.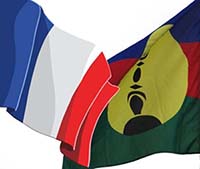 The yes vote was 43.6 percent but Kanak voters were already a minority of the restricted electorate for this vote that included Caldoche (settlers), descendants of a French penal colony for Algerian and Paris commune dissidents, and people of Asian and Wallisian ancestry.
A record 80.63 percent turnout with 141,099 voters in a largely calm and uneventful referendum day has opened the door for serious negotiations about the future of New Caledonia.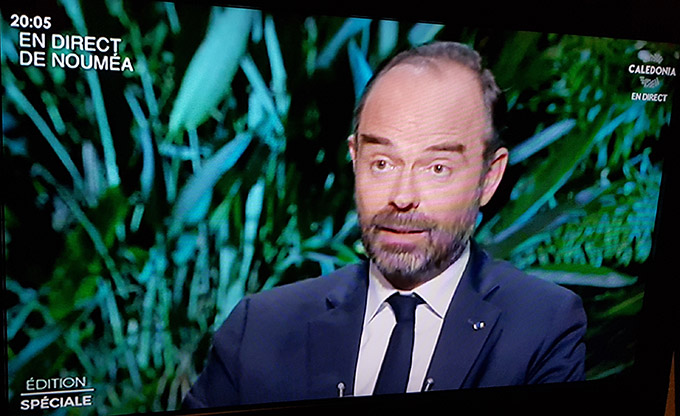 After meeting a range of leaders during the day and flying to Koné to meet President Paul Néaoutyine of the pro-independence stronghold Northern province, Philippe made a televised address to the territory last night.
Praising the people of New Caledonia for the peaceful conduct of the referendum, he called for a "meeting of the signatories" next month to consider the next step.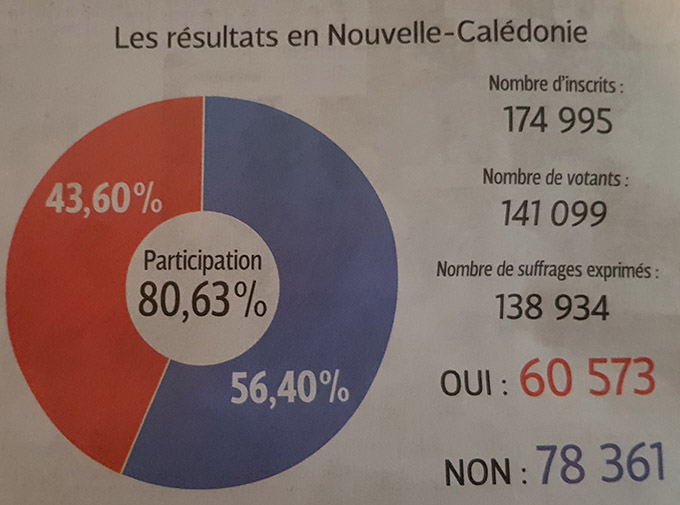 'Absolutely unique'
"It is absolutely unique," he said on television. "There is no other example in the history of France, and there are probably not many examples in the history of other nations of a democratic process of this quality.
"It's admirable. The question is what brings us together. What shall we do?"
After the prolonged series of clashes in the 1980s known locally as "les Evénements" – culminating in the Ouvéa cave massacre when 19 Kanak militants were killed on 5 May 1988 with the loss of six gendarmes and the assassination of respected Kanak leaders Jean-Marie Tjibaou and Yeiwene Yeiwene a year later – New Caledonia has enjoyed 30 years of relative peace and progress.
The Matignon Accord in 1988 and then the Nouméa Accord a decade later paved the way for Sunday's referendum
Prime Minister Philippe indicated that a fresh approach was now needed with a greater emphasis on social and economic development than political structures and to address "inequalities".
The prime minister had lunch with students at the University of New Caledonia. Following his TV address and evening "pool" interview with media, he flew back to Paris last night.
Under the Nouméa Accord, up to two more referendums can be held in 2020 and 2022 with one-third support from the territorial Congress.
Scrap extra votes
The anti-independence parties want to scrap the provision for further referendums while the pro-independence Kanak and Socialist National Liberation Front (FLNKS) coalition and UNI want the votes to go ahead as planned.
The small Labour Party is also pro-independence but chose a tactical "non participation" approach to the referendum which it criticised as "dishonest".
The pro-independence hand has been strengthened by the success of mobilising young people and showing the world that they "are serious" about their vision of a new nation, Kanaky New Caledonia.
"Édouard Philippe was here to listen to us," said FLNKS president Roch Wamytan. "Despite the opposition crowing that they were going to dominate 70/30, we have spoken of dialogue and negotiation. I have remained as prudent as the Sioux", referring to the First Nation people of Dakota who resisted US state oppression in the 19th century.
Anti-independence Rassemblement leader Pierre Frogier said the referendum result "anchors New Caledonia in France" and there was no need for further votes.
He criticised the referendum process, claiming that it had created a "divided Caledonian society".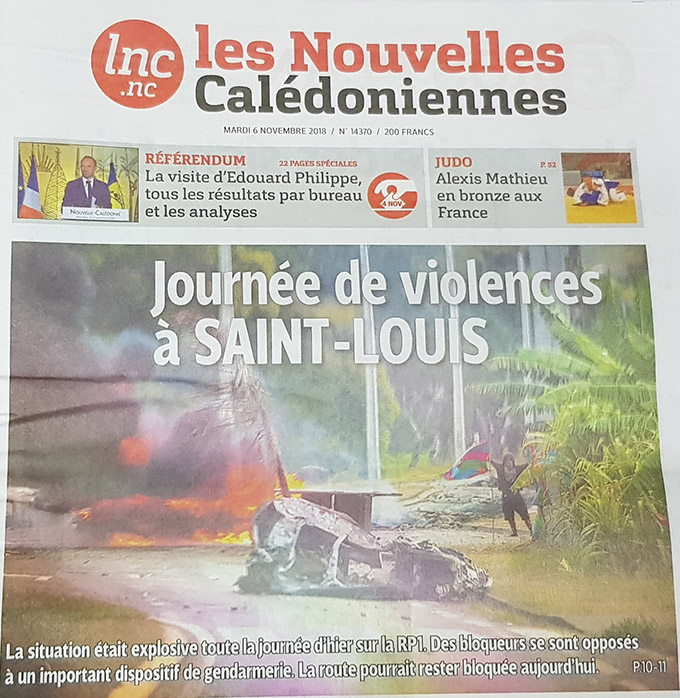 The clashes on the RP1 road near St Louis tribal area of Nouméa yesterday when protesters set fire to tyres on the main road, burned cars and pelted police with stones wracked up tension. The skirmishes sparked angry talkback sessions on loyalist radio stations and frontpage headlines of "violence" in the conservative daily newspaper Les Nouvelle Calédoniennes today.
However, security forces were deployed to the area in a show of force yesterday and were trying to regain control.
There have been other sporadic incidents too, but the referendum result has been largely accepted peacefully.

Video: Café Pacific