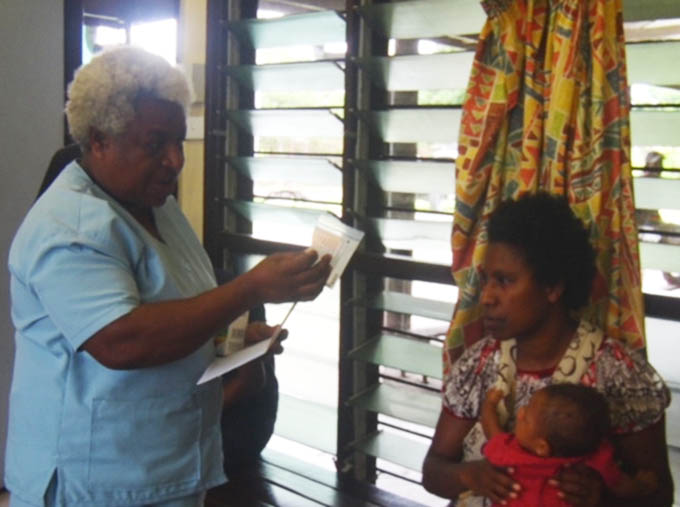 COMMENTARY: By Scott Waide
In Lae City, Papua New Guinea's second-largest city, there are seven urban clinics, each serving between 100 and 150 patients a day.  They get their medical supplies form the Government Area Medical Store (AMS) in Lae.
The AMS  in Lae also supplies the Highlands and the rest of Momase.
For the last six years, staff at the clinics have  been battling  medicine shortages.  You can see,  first hand,  how the medicine shortage affects people in Lae.
READ MORE: PNG faces 'catastrophe' if no crisis action taken
At Buimo Clinic on Friday,  a mother and baby came in  for treatment.  She  was  told that the last bottles of Amoxicillin suspensions would be given for her child  and that she  would have to go to a pharmacy to complete the treatment course.
The woman's name is Merut Kilamu.  She lives with her family at Bundi Camp in Lae.  She is not just a statistic.  She is a real person who is bearing the brunt of the ongoing medicine shortages.
"Sometimes, we are able to buy the medicine," she says. "Other times,  when we don't have the money, we can't buy what we need."
Patients go from the clinics to  Angau Hospital in the hope that they will get  the medicines  they need. But Angau can't handle the numbers.  Hospital staff have even  posted on Facebook saying they too need the basic supplies of antibiotics, antimalarial drugs and consumables like gauze, gloves and syringes.
Hospitals and clinics have become little more than prescription factories channeling their patients to pharmacies who charge the patients upwards of K40 (about NZ$18) for medicines. Pharmacies are profiting from the desperation and ill health of the Papua New Guineans.
Prices increased
In 2017, when clinics ran out of antimalarial drugs, pharmacies increased the prices.
In some instances, officers in charge of clinics felt the need to negotiate with pharmacies to keep their prices within an affordable range.  It is difficult for staff in smaller clinics to send away patients knowing they can't afford  to pay for medicines.
"Sometimes, we can't send them away. Staff have to fork out the money to help them pay," says Miriam Key, nurse manager at Buimo  clinic.
This is a nationwide medicine shortage!
As much as  the politicians dislike it, social media gives a pretty accurate dashboard view of the health system from the end user.  Charles Lee posted on Facebook about how the medicine shortage was affecting his family in Mt Hagen.
"Relatives in Hagen have flown to POM to seek medical treatment because of a shortage of drugs in Hagen."
His post drew more than 20 comments.
Gloria Willie  said from Mt Hagen:
"They just discharged a relative from ICU and we are taking her to Kundjip (Jiwaka Province)  today and if they are not allowed to receive  medical attention then, we are also planning to bring her to port Moresby. It is really frustrating.  But because of our loved ones, we are trying any possible way to have them treated."
'Stay at home'
Melissa Pela responded saying:
"Same here in Kavieng. Patients told to buy Panadol and keep at home. If you feel something like fever/running nose etc.. just take it. They say treat it before it becomes serious because there is simply no medicine."
The officer in charge of Barevaturu clinic in Oro Province, Nigel Tahima,  said by phone,  the  they are seeing an increase in the number of patients  because other clinics just don't have  medicine.
The reports are flooding in from all over the country. There are too many to mention in one blog post.
If urban clinics are a gauge to measure the flow of medicines from the AMS to the patient, you can imagine what rural clinics are going through.
They are too far from the AMSs and too far to adequately monitor. The only way to get an understanding of their problems is when staff make contact or when you go there.
Scott Waide's blog columns are frequently published by Asia Pacific Report with permission. He is also EMTV deputy news editor based in Lae.