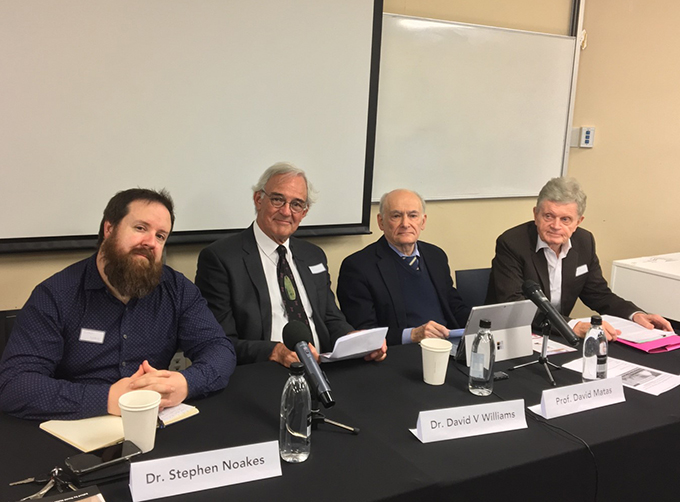 The Chinese government is accused of illegally harvesting the organs of Falun Gong members. However, a leading academic says that China isn't the real threat – Western countries are themselves, reports Rahul Bhattarai of Asia Pacific Journalism.
Leading academics warn that the "problem" with China is not the Chinese Communist Party but that Western self-censorship is "killing" its liberal democracy.
"China is not the real threat there, we are, we are the biggest threat to liberal democracy in New Zealand," says Dr Stephen Noakes, senior lecturer in politics and international relations and Asian studies at the University of Auckland.
"Every time we self-censor, when we choose not to speak out, when we chose to keep quiet for fear of not getting a visa, or not getting a trade deal … But since we, through our obsequiousness towards China are a potential threat, we can also be the cure," he told a  public seminar last week.
READ MORE: Why China fears the Falun Gong

Lawyers and political scientists gathered at University of Auckland (UOA) last week to discuss the Chinese Communist Party (CCP) policies about fundamental human rights and freedoms, civil liberties and the rule of law.
Organ harvesting
China has been under fire globally for its alleged unauthorised organ transplants from members of the Falun Gong community.
Though the initial position of the Chinese government was that all the organs were donated, "this was at a time when they [China] didn't even have donation systems… and they did not have an organs distribution system," said Professor David Matas, lawyer, author and professor of immigration and refugee law at the University of Manitoba.
While all organs were being found locally and the transplant volume was small, after the prosecution of Falun Gong began, the transplant volume "shot way up," he said.
China became the leading producer of transplantation in the world, second only to the United States.
Research conducted in 2006 by Professor Matas and his colleagues concluded that "the organs were coming from the practitioners of Falun Gong", he said.
As a result of his report, the Chinese government quickly shifted its stance and said that "everything that was coming from prisoners sentenced to death and then executed, before their execution they decided to donate their organ as an atonement for their crimes," said Professor Matas.
Foreign lobbying
In New Zealand strong lobbying from the Chinese Embassy prevented an exhibition of the Chinese spiritual organisation  Falun Gong to be set up in Auckland City.
Lawyer Barry Wilson, president of Auckland Council for Civil Liberties, said he had spent an enormous amount of time at the Auckland City Council trying to persuade them to allow the Falun Gong stand and the demonstrations for the protection of Falun Gong to remain.
"We were up against very strong lobbying from a Chinese Consulate and the Chinese Embassy which did not want that exhibition there," he said.
The Chinese constitution of 1982 contained the civil liberties that are observed in democratic countries – "freedom of speech, freedom of assembly and association, and freedom from arbitrary arrest," he said.
When Xi Jinping became president, he also brought his "clearly expressed opposition for liberal values".
"In his speeches he has spoken of the dangers of the liberal ideas like civil liberties, constitution rights, the dangers they pose for Communist Party rule," he said.
In China, there is no separation of powers between the judiciary, the executive, and the legislature – "courts and judges are subject to political direction," he said.
Ruling by law
"What China needs is lawyers as cogs in its economic development machine, but it needs lawyers to rule by law, not keep the rulers in check through the rule of law," he said.
Wilson said: "They [Falun Gong] are always interesting… its organisation and its events well deserve support."
China has also been using various means to infiltrate foreign countries to exercise its soft power on them – the Confucius Institute (CI) is one such organisation, says director Doris Lui in her documentary movie, In The Name of Confucius. 
The documentary claimed CI was an "infiltration organisation".
The Chinese government founded the institute in 2004 to teach foreigners the language and culture of China.
The documentary has been a strong critic of the CCP over its alleged violations of human rights, particularly against the Falun Gong community.
In August, the free screening of the movie was set to air in University of Auckland, but the airing was withdrawn at the last minute.
The University of Auckland, University of Canterbury and University of Wellington in New Zealand have ties with CI.
The CI, which is controlled by the Office of Chinese Language Council Internationl (Hanban) prevents its teachers from teaching Cantonese or Hokkien.