Typhoon Mangkhut as seen from the foyer of the of the Mira de Polaris hotel about 15 km from the heart of San Nicolas. Video: Jeremaiah M. Opiniano/Cafe Pacific
By Jeremaiah M. Opiniano in San Nicolas, Ilocos Norte
Howling winds and heavy volumes of rainfall brought more than a third of the Philippines and its 103 million citizens to a standstill at the weekend with at least 64 people dead.
While the storm has now struck China and Hongkong, the Philippines toll is expected to rise with dozens of people, mostly miners and their families, still feared trapped after a landslide in the remote village of Ucab, reports The Guardian.
The width of this typhoon dubbed Mangkhut (local name: Ompong) —900 km in radius— hit communities far and near the eye of the storm, which passed by this province nearly noon yesterday.
Paved streets, mountain systems and agricultural plains here in this municipality are largely unsafe to walk due to the gusty winds and heavy rainfall.
READ MORE: Philippines death toll rises as Typhoon Mangkhut barrels towards China
San Nicolas is a microcosm of what hit the Philippines' largest island of Luzon.
Mangkhut is perceived to be stronger than 2016's third strongest typhoon worldwide: Haima (local name: Lawin). Lawin was tagged a "super typhoon" given recorded sustained winds of 225 kph (10-minute standard) and wind gusts of 315 kmh.
Ompong reached its highest sustained winds of 205 kph (just under the 220 kph minimum sustained winds to be tagged technically as a super typhoon), say Filipino meteorologists.
But Mangkut's width was larger than Haima's 800 km.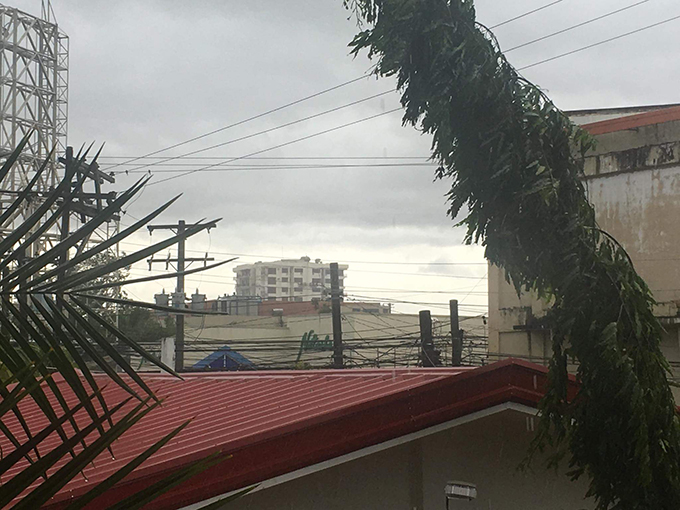 Heavily-hit provinces
Heavily-hit provinces were in Luzon's northern and north-western parts like the province of Cagayan (where its municipality of Baggao was where Mangkhut first made landfall at dawn yesterday).
Then Mangkhut passed by Ilocos Norte, driving a swathe of rain and gusty winds from 10 am to 12 noon.
About 11:45 am, the eye of the storm —the calm portion of the typhoon with no rain and wind for some 15 to 30 minutes — can be seen in neighbouring Batac City, 15 km from San Nicolas.
Nearby provinces Ilocos Sur, La Union, Pangasinan, Kalinga and Apayao felt the strong winds and rain.
However, television and radio reports showed that even provinces and communities that are at least 300 kms south of Cagayan and Ilocos Norte provinces felt the strength of Mangkhut's rains and winds. That included the Philippines' capital region, Metro Manila.
Reports are still being collected from across Luzon as to how many people died and are missing.
Estimated damages to crops and property will come after the storm leaves the Philippine Area of Responsibility (PAR) tomorrow morning.
Death, damage estimates
As in every natural disaster, the National Disaster Risk Reduction and Management Council (NDRMMC) collects reports from local governments and provides estimates of deaths and damages to property within a week from the disaster.
Haima or Lawin left 18 Filipinos dead and damaged some 3.74 billion pesos (US$77.6 million) in damages.
It is not that Filipinos, their municipal/city/provincial governments, and the national government led by President Rodrigo Duterte were unprepared for this kind of natural disasters.
The Philippines learned bitter lessons on disaster preparedness and risk reduction the hard way when the world's strongest typhoon Haiyan (local name: Yolanda) rammed coastal and landlocked communities in central Philippines —the Visayas group of Islands.
Haiyan left some 7000-10,000 people dead and a global outpouring of support and disaster aid to the Philippines.
Here in San Nicolas, a small hotel named Mira de Polaris felt the impact of a shattered glass and a huge SUV tyre fall down from the four-storey building.
On Friday, hotel owners had to cut down two trees in the hotel's facade.
"We might create more damage had we not cut down those trees," said a male receptionist.
Wrath of Haima
This place also felt the wrath of Haima: the roof a Shell gas station near Mira de Polaris, in Valdez Ave, collapsed in 2016.
This petrol station is still referred to as the "Shell station" by local jeepney drivers, but its markings as a Shell outlet are not as visible as before Haima struck.
President Rodrigo Duterte deployed department secretaries from affected areas to become the faces of national government's support to affected typhoon victims.
Opening his third year in the presidency after his state of the nation address (SONA) on July 23, Duterte's officials proposed to Philippine Congress that a department or ministry of disaster resilience be created.
Jeremaiah Opiniano is assistant professor of the University of Santo Tomas (UST) journalism programme. He is also a PhD student (geography) at the University of Adelaide, South Australia.