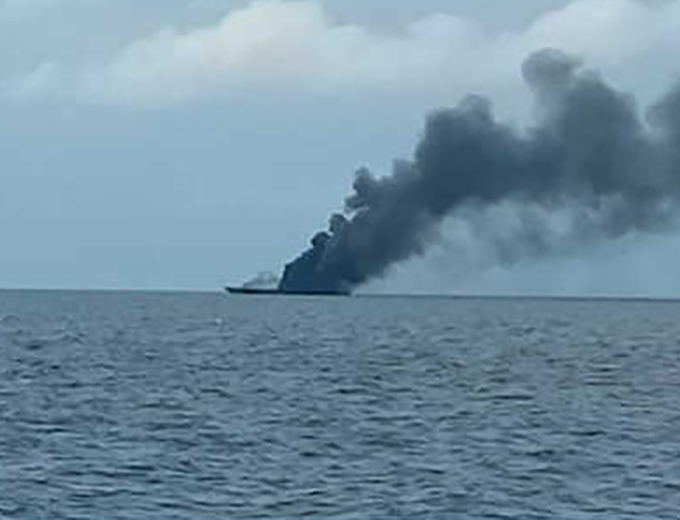 By Robertus Wardi in Jakarta
One of the Indonesian Navy's fast missile boats has caught fire and sank while on patrol near Sorong in West Papua, becoming the country's second naval vessel to perish in the past nine months.
All crewmembers on board the missile-carrying KRI Rencong-622 survived.
The Navy has vowed to investigate the incident on Tuesday, which followed the sinking due to bad weather of KRI Sibarau-847 in the Strait of Malacca in December.
"We hope the result of the investigation will help us to prevent similar incidents in the future," Indonesian Navy spokesman Rear-Admiral Gig Jonais Mozes Sipasulta said.
According to initial reports, the incident occurred at around 7 am on Tuesday when a fire broke out in the ship's engine room after the gas turbine unexpectedly shut down.
The vessel was set to return to base in Sorong to replenish its supply of fresh water.
The fire soon spread to other compartments, including the ammunition room, prompting the ship's commander to issue an order to abandon ship.
Chinese missiles
KRI Rencong-622, built in in Masan, South Korea, in 1979, was one of Indonesia's four Asheville-class gunboats.
It used to carry French-made MM-38 Exocet surface-to-surface missiles before switching to Chinese-made SACCADE C-802 missiles.
The patrol boat has been instrumental in Indonesia's efforts to police illegal fishing since 2015. The ship used to intercept mainly Philippine and Taiwanese fishing boats entering and fishing illegally in Indonesian waters.
It formed part of the Indonesian Navy's Third Fleet Command in Sorong and used to patrol the Banda Sea in the Maluku Islands and the Celebes Sea east of Sulawesi Island.
The government introduced a Rp 18.3 trillion (US$1.2 billion) budget in the House of Representative last week for the procurement of new ships and weaponry for the Navy next year.
The focus is on boosting Indonesia's military capabilities in its eastern region and it includes beefing up the Sorong naval base, Air Marshal Hadiyan Sumintaatmadja, Secretary-General of the Ministry of Defence, told the national legislature last week.
Robertus Wardi is a Jakarta Post journalist.