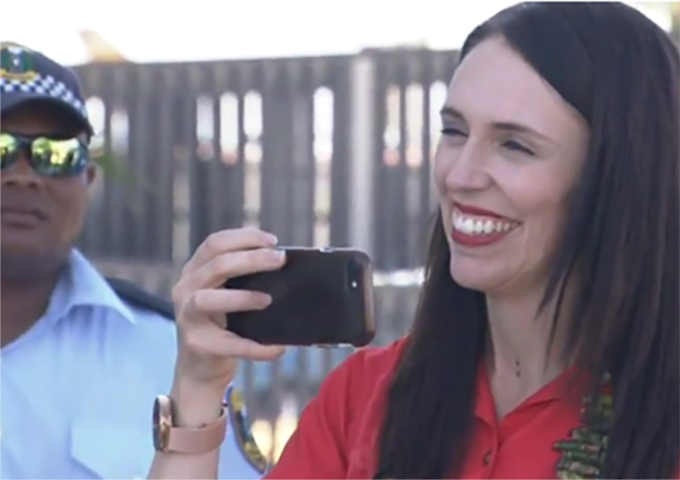 OPINION: By Barbara Dreaver, 1 News Pacific Correspondent
Now that the phosphate dust has settled and the shameless self-promoting headlines about the Pacific being "leeches" and a waste of time and money have lost their hysterical edge – let's take a look at some facts.
Jacinda Ardern serenaded with song written especially for her and Neve on arrival to Nauru
The song called Jacinda New Star in the Sky clearly delighted the Prime Minister. Source: 1 NEWS
Firstly to deal with the issue of "da plane, da plane" – it seems only appropriate here to bring in Tattoo from Fantasy Island for those old enough to remember this dubious 80s TV progamme.
Yes, it cost money to send up an extra plane to Nauru to make it possible for our Prime Minister to get there.
That is true.
What is also true is there have been several, not just the one, but several multiflight trips organised by the former National government around the Pacific because some politicians across the political landscape found it uncomfortable to travel on the C130 Hercules the whole way.
It's not unusual, so I'm not sure why this suddenly became a big issue.
Multitude of reasons
It was important for the Prime Minister of New Zealand to be in Nauru for the Pacific Islands Forum for a multitude of reasons.
The geopolitical landscape in the Pacific has changed radically in the last couple of years.
Jacinda Ardern and Pacific leaders sport matching red threads during Nauru photo shoot
The Prime Minister is making a one-day appearance at the Pacific Island Forum. Source: 1 NEWS
At this Forum, Air Force 2 flew in a US delegation, a high profile Chinese delegation was there, other Asian countries, the European Union … all vying for influence.
From a geopolitical stance alone it's crucial New Zealand is a player in this.
Just ask Australia, which is having kittens over the thought of Papua New Guinea and Vanuatu giving port power to the Chinese. Then there are serious security issues.
South East Asia and a bigger push since 2016 from South American cartels are pushing drugs through the Pacific to Australia and New Zealand, fisheries are being depleted – these are all issues that affect New Zealand – why wouldn't we be there?
Instability bad for NZ
Instability in the region is bad for New Zealand.
Bilaterals with Pacific leaders are equally important.
New Zealand wants island country votes at regional and world level – the UN Security Council, which we headed at one point is a case in point, the World Health Organisation and many more. Votes are gold and don't think that New Zealand doesn't want to tie up Pacific votes any less than the big players.
Foreign Minister Winston Peters could easily have done the job but he is not Prime Minister.
You can throw money around the region as much as you like but to underestimate personal relationships in the Pacific is sheer ignorance.
Mana is quite rightly attached to New Zealand's leader being there and if Jacinda Ardern hadn't shown up for her first Pacific Forum we would have been penalised for it down the line one way or another.
New Zealand cannot afford to tread with the same ignorance Australia does as it blunders through the region – incredulous that things are happening that they don't like.
PM holds her own
To suggest that Jacinda Ardern is not tough enough is ridiculous. I'm told by people who know first-hand that she more than holds her own in a bi-lat and so she should – it's the very least we would expect any of our Prime Ministers to do.
While the above is important there is also something else. A palagi friend who I really respect had the following to say and I couldn't agree more.
"For me the importance of the Pacific is much more cultural – we are part of this place and Pacific Islanders are part of us.
"It's who we collectively are. We give to each other and sustain each other with language, music, laughter. And in doing so we are all creating a unique culture that is different – the rest of the world can only wonder and admire us."
As someone who has lived and worked in the region for nearly 30 years I have nothing but contempt for the sheer ignorance I have been reading from those whose idea of the Pacific is lying poolside at Denarau with a pina colada.
New Zealand needs the Pacific as much as the Pacific needs New Zealand. In fact some countries have made it clear they don't need New Zealand at all.
The National government understood this – so does this government. Let's move on.
This Barbara Dreaver Television New Zealand blog posting is republished with permission.