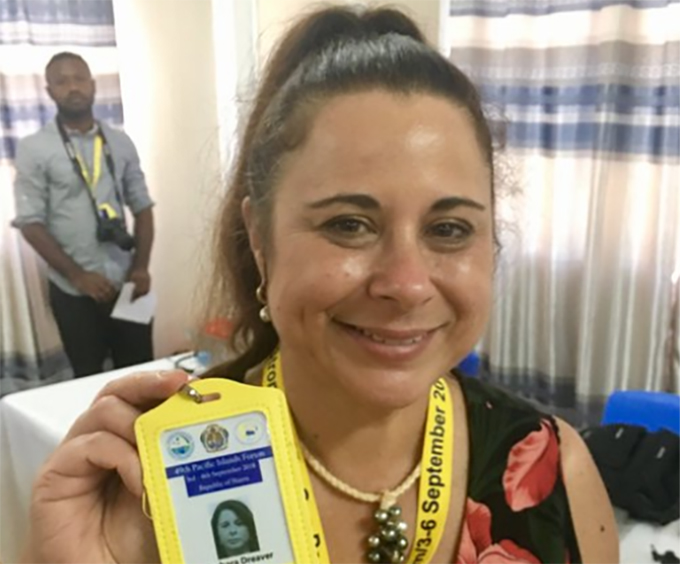 By RNZ Pacific
The Nauru government has taken to Twitter to warn journalists they are not above the law as they cover the Pacific Islands Forum.
Journalists covering the Forum are operating on visas with restrictions on reporting – in particular about the Australian-run detention camps.
New Zealand Television Pacific affairs journalist Barbara Dreaver lost her accreditation yesterday after Nauru said she had violated visa regulations.
READ MORE: Media freedom commentators condemn Nauru 'gag' actions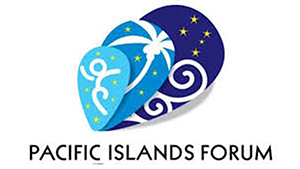 The TVNZ reporter was detained for more than three hours and stripped of her Forum accreditation – however that was reinstated today.
She had been interviewing a refugee outside a restaurant on the island when she was asked to go to a police station.
The Nauru government said journalists from New Zealand were not above the law and walking into certain areas unannounced increased risk.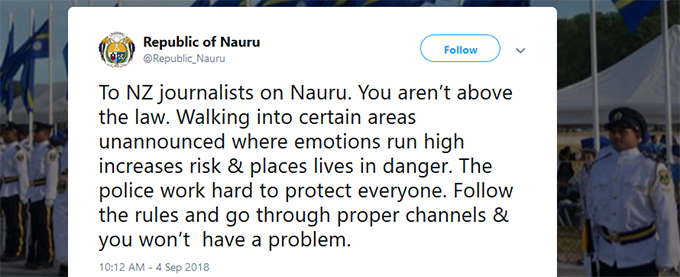 The government also tweeted about the need for journalists to follow the rules, and accused some of reporting misinformation.
News reports disputed
At a news conference as part of the Forum President, Baron Waqa disputed news reports about what happened to Dreaver.
"No she wasn't detained, she was taken in for questioning," he said.
New Zealand Foreign Minister Winston Peters, who is also in Nauru, said freedom of the press was critical to democracy.
New Zealand Prime Minister Jacinda Ardern arrived earlier for the main day of the Forum and said she would be asking more questions about what happened during the course of the day.
She is joining other leaders in the traditional retreat, after which they will sign the Boe Declaration, making commitments about action on regional security, including transnational crime, illegal fishing and cybercrime.
RNZ political reporter Gia Garrick said journalists there did get a warning of sorts yesterday.
'Wrong issues'
"We did have a warning. I guess that there was some displeasure or unrest from the Nauru government about the New Zealand reporting while we are here," said Gia Garrick.
"We had an MFAT official sit the seven of us down, or actually it was the six of us minus Barbara [Dreaver], she wasn't back at this stage …and tell us that the Nauru government would like to pass on a message to us that it would prefer if we reported on the Forum instead of just focusing on the one issue here.
"The government felt that we had not been reporting on the Forum to its satisfaction and been focusing on the wrong issues and so he wanted to pass on that it would be going against our visa conditions should we be going into these refugee camps and it was just a few hours later that Barbara Dreaver was detained or was taken to the police station."
The Pacific Islands Forum ends today.
This article is republished under the Pacific Media Centre's content partnership with Radio New Zealand.