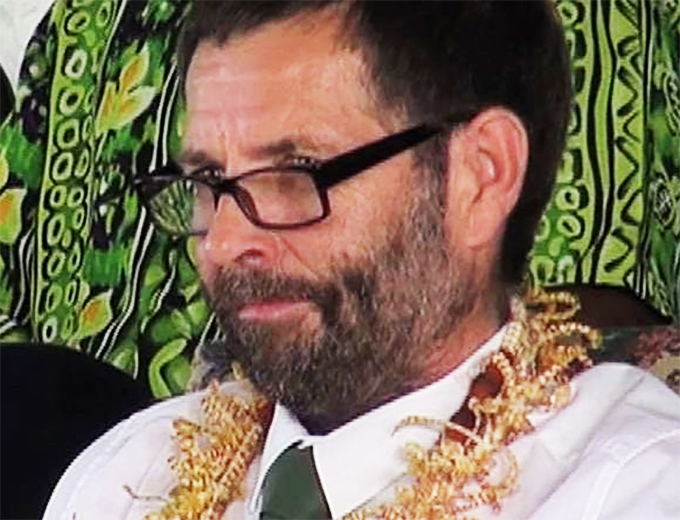 By Keith Jackson
A letter from the former vice-chancellor of Papua New Guinea's University of Natural Resources and Environment (UNRE) in Rabaul says senior staff urged him to leave the country for his own safety after a scurrilous attempt had been made to level trumped up criminal charges against him.
A member of UNRE staff has revealed a letter to the university's council which explains to its members exactly why Professor John Warren left hurriedly and without formal ceremony this month, with the experience of former University of Technology vice-chancellor Dr Albert Schram fresh in his mind.
Earlier this year, there were attempts to detain Dr Schram in PNG as an act of vengeance following his identification of corrupt practices at Unitech.
READ MORE: Albert Schram: My wrongful dismissal and malicious prosecution – a warning
Dr Schram was later able to leave the country when he realised a conspiracy against him was beginning to take shape and was able to regain his passport and return to Italy.
In his letter to the university council, Prof Warren says he hopes it will clarify the circumstances surrounding the events that led to his sudden departure which occurred after the UNRE chancellor Kenneth Sumbuk accused him of spreading rumours that he (Sumbuk) wanted to take over the university.
"On five separate occasions he mentioned the possibility of reporting me to the police over this," Prof Warren wrote.
"Although I was aware of rumours that the chancellor wanted to be vice-chancellor, they had not been circulated by me. In fact I considered them trivial gossip.
'Very disturbed'
"However, I was very disturbed by the chancellor's repeated threats to report me to the police."
At a hastily-called council meeting on July 26, Prof Warren's authority was constantly undermined and normal protocols and procedures ignored and ridiculed by the chancellor. It seems council members themselves also failed to assist, resolve or regularise matters.
"By the end of the meeting my job had become untenable, and I submitted my resignation the following day," Warren wrote.
Prevailed upon to remain for a transition period by PNG Higher Education Secretary Fr Jan Czuba, Prof Warren at first agreed but was then informed by senior UNRE staff that they were concerned about his safety if he remained.
The same afternoon he received news that a court order was about to be served on him and, after consulting the British High Commission and his lawyer, and with the Schram case in mind, he decided that "although the charges were ludicrous, I should leave PNG as quickly and quietly as possible".
He added: "This I did, regrettably without being able to say goodbye to my many close friends and colleagues.
"My decision to accept the position of vice-chancellor at UNRE was not motivated by financial or career reasons," Prof Warren said.
'Significant reduction'
"I took a significant reduction in salary when moving to UNRE and have no ambition to work in academia following this appointment.
"I was motivated purely by a desire to help UNRE improve as an organisation, to enhance the education received by its students, and to promote the sustainable use of natural resources in PNG."
Since his departure, angry UNRE students have been boycotting classes and demanding an explanation of the events that led to his departure.
But Prof Warren will not be coming back. "Under no circumstances will I be returning to UNRE as vice-chancellor," he said.
In his letter to the university council, he accused it of repeatedly overturning decisions it had no authority to make.
"It is extremely poor governance for council to undermine the authority of the vice-chancellor unless there is a significant disciplinary issue," he said.
"If you were unhappy with my performance, you should have said so and I would have been happy to step down. Instead you took over the responsibilities of the CEO."
Making up rules
Prof Warren said council members should consider their positions.
He did not say this, but it can be observed here, that the chancellor and council should be sacked and the operations of Fr Czuba's struggling higher education authority put under scrutiny.
However, with PNG rapidly becoming a place where people make up their own rules as the normal functioning of organisations breaks down, none of this will happen,
The prospects of PNG's higher education system recovering and strengthening through the application of qualified, competent and dedicated leadership seem a long way off.
Keith Jackson is a retired educator, teacher, civil servant, police maker and broadcaster who lived for many years in Papua New Guinea, but who also had experience in Fiji, India, Indonesia, Maldives and the Philippines. His blog PNG Attitude was established to address a major issue – "the silence that, for too long after PNG independence in 1975, existed between Papua New Guineans and Australians."
PNG government inquiry says UK academic's intimidation claims don't stack up