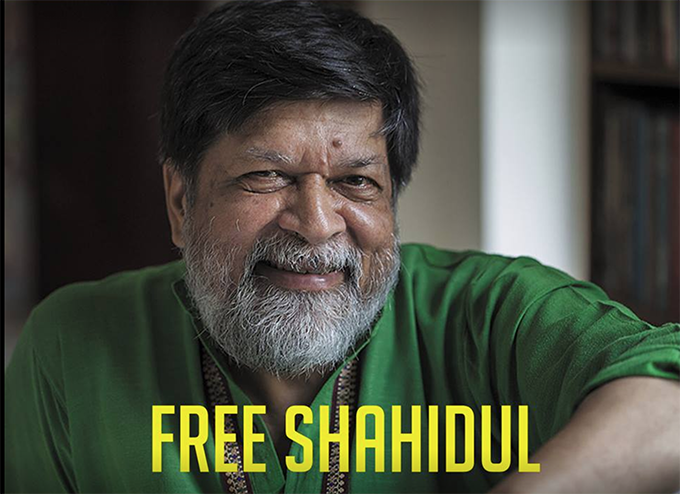 Late on the night of August 5, 2018, award-winning Bangladeshi photographer and activist Dr Shahidul Alam was forcibly abducted from his house in Dhanmondi, Dhaka, by 20 men in plainclothes, sparking protests from media freedom and human rights groups.
Alam is the founder of both the Drik Picture Library and the Pathshala South Asian Media Institute and a vocal journalist on issues related to rule of law and the public interest.
It was soon confirmed that a team of the Detective Branch (DB) of police had detained Shahidul from his residence, with the intention of interrogating him over his Facebook posts about ongoing student protests in the capital, Dhaka.
READ MORE: RSF protests over shocking press freedom violations during Bangladeshi student protests
Secondary school students of different educational institutions in the Bangladesh capital have taken to the streets since July 29 demanding improved road safety and rule enforcement, after two of their classmates were killed due to reckless driving by public bus. The students are also demanding justice for the victims.
Excessive police force
Shahidul Alam has been covering the ongoing student protests in Bangladesh in his Facebook and Twitter accounts and discussing the protests on Facebook Live.
More than one hundred students were injured over the weekend as the police resorted to excessive force, including firing rubber bullets and tear gas at thousands of peaceful student protesters.

The protests took a violent turn on August 4 when rumours of student protesters being kidnapped, raped and killed began to spread online, but independent media sources at the Dhaka Tribune along with students themselves and a fact-checking Facebook group called Jaachai (fact-check) have denounced these messages as false and debunked doctored photographs.
Nevertheless, many students came out to the streets to protest the deaths. Several violent confrontations between protesters and police have ensued since.
Mobs allegedly associated with Bangladesh's ruling party have also attacked demonstrators and journalists who were covering the attacks.
Emergency medical teams say they have treated more than 100 protesters who have been injured.
In an attempt to curb rapidly-spreading rumors, mobile internet speed was brought down to a minimum level (2G) shutting down 3G and 3G broadcasts.
Angered authorities
Alongside his social media coverage of the protests, Alam apparently angered the authorities and the ruling party after he gave a TV interview on Sunday evening with Al Jazeera where he talked about the recent situation in Bangladesh and criticised the government.
Expat blogger Rumi Ahmed posted a transcript of the interview on Facebook. Here is an excerpt:
I think what we need to do is to look at what has been happening in the streets today. The police specifically asked for help from these armed goons to combat unarmed students demanding safe roads.

I mean how ridiculous is that? Today, I was in the streets, there were people with machetes in their hands chasing unarmed students. And the police are standing by watching it happen.

In some cases, they were actually helping them…
According to the latest reports, the police have received a seven-day remand to question Shahidul Alam in connection with an ICT Act case filed on August 6, 2018. He was taken to the court barefoot and barely able to walk.
He appears to have been beaten while in custody.
Exiled journalist Tasneem Khalil tweeted: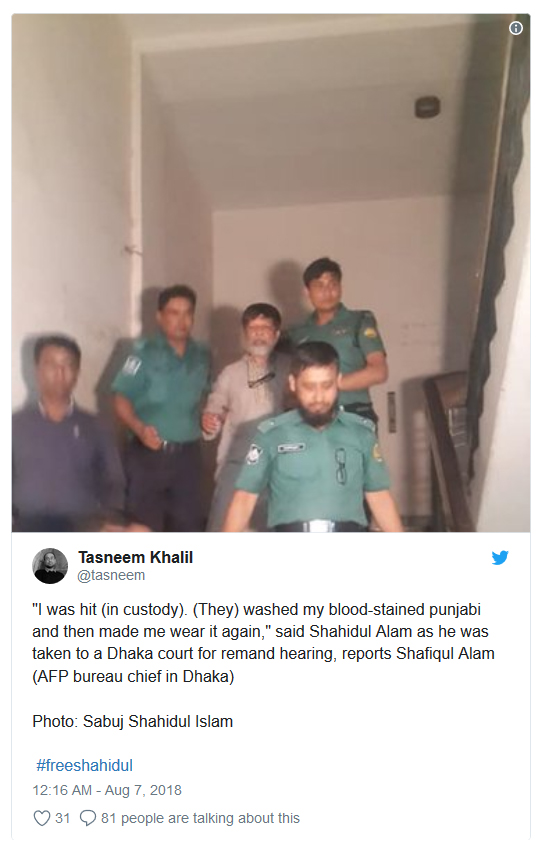 The police have not yet mentioned why he was detained but referred to the case which accuses him under section 57 of the ICT Act of "abusing" an electronic platform in order to spread "lies" among the population and with the intent to "invalidate and question" the government on the international stage, damage law and order, spread "fear and terror".
The provisions of Section 57 of Bangladesh's notoriously broad 2013 Information and Communication Technology Act of Bangladesh have been used to slap hundreds of lawsuits against journalists and online activists to curb the freedom of speech online over the past few years.
Blogger and activist Vaskar Abedin writes on Facebook:

Amnesty International has released a statement which read:


Asia Pacific Report republishes this article with permission under a Creative Commons licence.