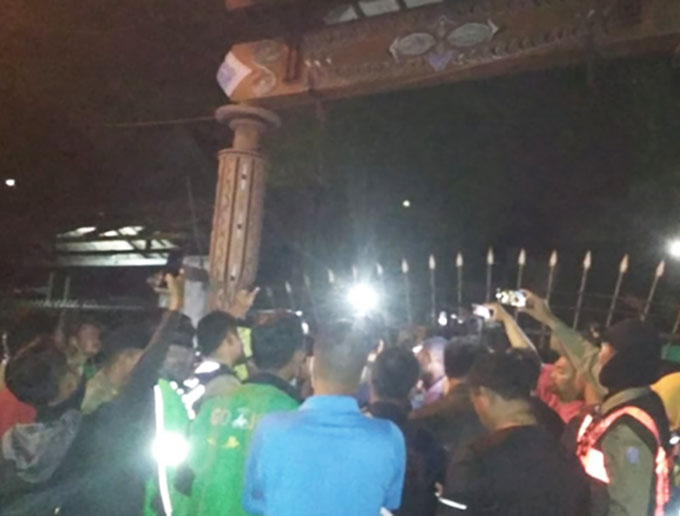 By Pebriansyah Ariefana in Surabaya
Indonesian police have revealed that police and military officers raided a Papuan student dormitory in the East Java provincial capital of Surabaya in Indonesia at the weekend because the students were allegedly planning to screen the documentary film Bloody Biak (Biak Berdarah).
Tambaksari Sectoral Police Chief Police Commander Prayitno claimed that security personnel went to the Papuan student dormitory in order to prevent an incident such as one that occurred in Malang earlier in the week from happening in Surabaya.
"[According] to information we received, they announced on social media that they would show the film Bloody Biak. So we went to the dormitory to anticipate this," he said.
However, the planned screening of the film Bloody Biak on Friday was cancelled, and replaced by a screening of World Football Cup matches.
"If the discussion had still gone ahead. Apparently the film Bloody Biak [was to be screened] which tells the story of the massacre of Papuan people. I don't know if this was true or not", he said.
A joint operation by hundreds of TNI (Indonesian military), police and Public Order Agency officers (Satpol PP) raided the Papuan student dormitory located on Jl. Kalasan No. 10 Surabaya on Friday.
The dormitory is home to hundreds of students and Papuan alumni from various tertiary education institutions in Surabaya.
Security personnel sealed off the Papuan student dormitory because of suspicions that there would be "hidden activities".
Inside the dormitory, they were to hold a discussion and wanted to screen the film Bloody Biak that evening.
Background
On July 6, 1998, scores of people in Biak Island's main town were wounded, arrested or killed while staging a peaceful demonstration calling for independence from Indonesia.
Earlier last week on July 1, police violently closed down a discussion by West Papuan students at Brawijaya University in the East Java city of Malang marking the 47th anniversary of the proclamation of independence in 1971 by the Free West Papua Movement.
Police claimed that they closed own the discussion following complaints from local people.
Translated from the Suara.com story by James Balowski for the Indoleft News Service. The original title of the article was "Film Biak Berdarah, Alasan Polisi Kepung Asrama Papua di Surabaya".