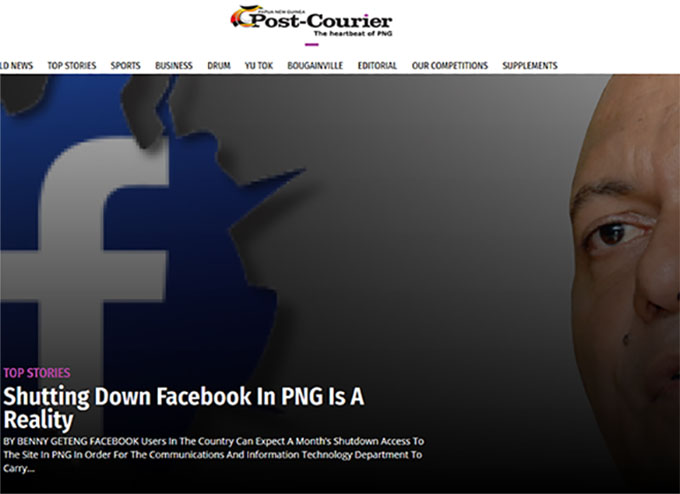 OPINION: By Scott Waide in Lae
Maybe it was a slip of the tongue or a misinterpreted statement… But there is no doubt that whatever it was that Papua New Guinea's Minister responsible for Communications and Information Technology, Sam Basil, said this week has created a storm now being reported on global media outlets.
While some commentators are screaming "fake news", others are taking it all in as a fact.
What gave this statement its legitimacy was its publication on one of Papua New Guinea's two dailies – the Post Courier. The online version of the story has been quoted numerous times that has become the top story out of Papua New Guinea in the last 24 hours.
READ MORE: Facebook shutdown outcry – 'a mockery to APEC'
The country doesn't usually make it into the tech pages of websites, but it has.
Matt Novak from Gizmodo wrote: "The (PNG) government also said that it's exploring the creation of its own social media site to replace Facebook."
John Russel from Techcrunch: "… the Facebook ban — however delicious it may sound given recent events — is not confirmed for Papua New Guinea. It remains a possibility once Basil has liaised with police."
The suggestion to shut down Facebook is dangerous on many levels.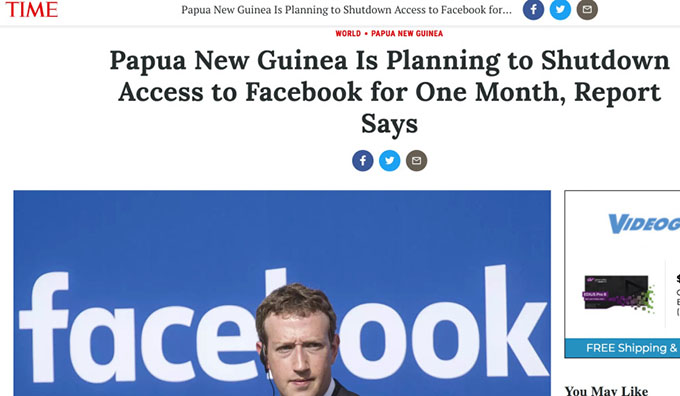 PNG on back foot
Firstly, it places PNG on the back foot. It is a highly embarrassing position to be in as members of APEC discuss the region's economic future with e-commerce and social media being a pivotal focus of the talks.
Any shutdown of Facebook for any length of time, is contrary to the spirit of the discussions where wider access to ICT forms the basis of future economic policies.
In Papua New Guinea, small businesses are starting to thrive. Their main avenue to sell to a wider customer base? Facebook pages. Not websites. Website developers charge a minimum of K2500 for a basic site. It is too big an amount for small businesses.
Not one to mince his words, the director of the Institute of National Affairs , Paul Barker, told The Fiji Times: "It would be a travesty if PNG sought to close down Facebook during the APEC month [in November], making PNG seem rather foolish, as it would be both an attack on embracing technology, undermining the information era and mechanisms for accountability, but also damaging business and welfare.
"Facebook is no longer just a platform for chatting to friends and relatives, and exchanging photos, it's now a critical tool for information sharing and social auditing, and also a major platform for business, especially micro, small to medium enterprises (MSMEs)."
In Lae City where I live, Facebook is a primary means of reporting crimes to the police. The Lae Police Metropolitan Command has a Facebook page linked to its crime reporting systems and toll free number. It is an integral part of policing.
Primary disaster reporting tool
In Papua New Guinea, Facebook has become the primary disaster reporting tool used by rural communities.
In February, when the Highlands was struck by a 7.5 magnitude earthquake, the first pictures of the damage and deaths were posted on Facebook.
Yet it took at least two weeks before the National Disaster Center began collating the information that was readily available within 20 minutes of the disaster.
It is good that this debate is happening now instead of later.
Scott Waide's blog columns are frequently published by Asia Pacific Report with permission. He is also EMTV deputy news editor based in Lae.