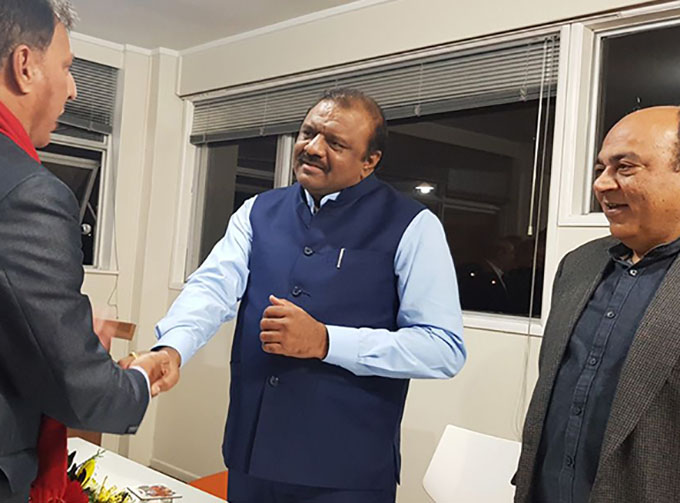 By Vandhna Bhan in Auckland
India's Minister of State for Tribal Affairs Jasvantsinh Bhabhor visited Auckland briefly last Saturday to talk about building international relations, but avoided comment on the country's rape culture.
In light of recent events where two teenage girls living in rural India have been violently raped and then set on fire, Bhabhor declined to comment and restated his visit to New Zealand was solely relationship building.
India's Tribal Affairs sector focuses on issues in rural Indian communities such as farming, education and cultural laws – which cover how community elders make their own laws surrounding rape.
In one of the past cases, the society's elders said they had already punished the rapist and murderer with "100 sit-ups" so police involvement was not needed.
India's Prime Minister Narendra Modi has been criticised for his response and inaction over these incidents.
"Our government is committed to building cordial relationships to work towards the progress of all Indians," said Bhabhor.
The brief stopover was en route to Samoa where the Indian government is working closely with Samoa's medical centre.
First Samoan visit
High Commissioner Sanjiv Kohli said Bhabhor's visit to Samoa is a first for any Indian minister in history.
"We have provided Samoa with their entire dialysis units and have even brought patients from Samoa to India for intensive surgeries.
"We are aiming to extend this aid to other countries," said Kohli.
Twenty-eight-year-old Sukshant Nand who was present at the event said that the Indian minister failed to answer the big questions.
"The elephant in the room was rape culture in rural India which is a matter for Tribal Affairs, but here they are promoting their work in Samoa.
"There is work to be done in their own country," said Nand.
Bhabhor said that they were taking "major steps" in areas such as demonetisation, GST, free electricity and electrification in rural communities.
However, it remained that both Bhabhor and Kohli were silent on rape issues.
Vandhna Bhan is a student journalist with the AUT School of Communication Studies news website Te Waha Nui.