By Hele Ikimotu with visuals and drone video by Blessen Tom
Vunidogoloa was the first village in Fiji to be relocated – barely three years ago – due to sea level rise.
The village was in the Cakaudrove province and had backyard views of beautiful Natewa Bay on Vanua Levu Island.
The relaxing life for these villagers was, however, dampened by the impact of sea level rise.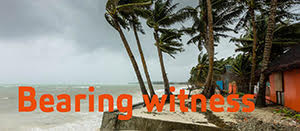 Flooding was common for the villagers and so they needed to be relocated.
Their new village is 2 kilometres inland and was renamed by the villagers as Kenani ("Promised Land").
The whole village of Vunidogoloa (pop. 130) moved to their new settlement in January 2014 and now have solar lighting.
We stopped by the old "ghost" village to see where the people once lived and also took some photos of where they are now settled.
From Vunidogoloa to Kenani