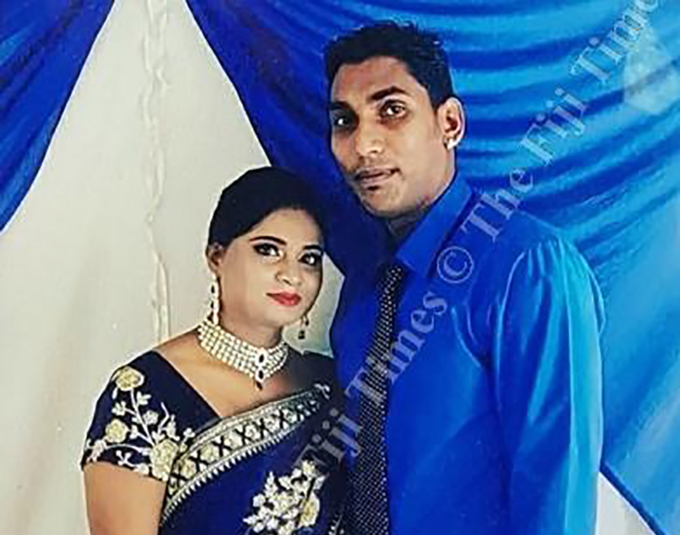 By Felix Chaudhary in Lautoka
"We're stuck in the river, please come quickly."
These were the last words spoken by a distraught daughter to her father-in-law as floods engulfed the vehicle she was travelling in.
Sheenal Mudliar, 25, and her father, Veer Goundar, had left Damodran Mudliar's Uciwai home in Nadi about 4.30am on Sunday for Nadi International Airport to pick up her younger brother who was arriving from New Zealand.
About 15 minutes later she was calling for help.
"The rain was pouring and the wind was also quite strong, and when I got to the Uciwai Bridge at about 5.10am, I couldn't see anything," the distraught canegrower said.
"My daughter-in-law's voice kept going round and round in my head and I got out of my car with a friend and we crossed to the bridge to try and look for them."
Mudliar said the current was strong which made the search difficult.
'We kept looking'
"We kept looking for about half-an-hour and when the water level went down a little bit, I drove to Nawai Police Post and reported the matter."
Sheenal's husband, Sandeep, was too grief-stricken to speak about the tragedy.
A search party organised by the family with the assistance of nearby villagers recovered Mudliar's body at 9.30am on Sunday and Goundar was found about 4.30pm the same day.
Mudliar said the family was awaiting police to complete post-mortem examinations before making funeral arrangements.
Evacuation centres not ready
Evacuation centres were unprepared for the flooding and responses were slow.
No water, no food and no assistance for infants, young children and the elderly was the scene at St Andrews Primary School, Nadi, yesterday.
More than 500 people sought shelter there early Sunday morning after the Nawaka and Namotomoto rivers broke their banks.
Between the hours of 5am to 8am, residents of Nawaka Village and Nawajikuma and Nawaka tramline settlements waded through waist deep fast-flowing floodwater to seek shelter at St Andrews.
However, when they got to the school, the gates were locked.
The evacuees said they had no option but to climb over and enter the school.
"They had nowhere else to go and they only know St Andrews, it's a safe place for them," said Litia Taylor, a Nawaka resident and community liaison.
Evacuees reduced
When The Fiji Times arrived at the school yesterday morning, the number of evacuees had been reduced to 275.
"When evacuees arrived here, the school had not been informed that it was to open as an evacuation centre.
"We had people sitting in the veranda, many of them were shivering because they were wet from the floodwaters and we had mothers with young children who had no warm clothes or food.
"The classrooms were opened up about 11am.
"I have assisted government teams that visit St Andrews during past disasters and this has got to be the worst situation we have ever faced.
"There was no drinking water and whatever was coming out of the taps was brown and dirty.
"What was very disappointing is that no one from the District Officer Nadi's office has visited the school to see what the needs are."
When contacted yesterday morning, acting DO Nadi Faiyaz Ali said he was in Nausori and was making his way to Nadi.
Ali said his team was on the ground and conducting assessments of all evacuation centres in Nadi.
'Worse than 2009 floods'
Local Government Minister Parveen Kumar described the crisis as worse than the 2009 floods, reports The Fiji Times' Shayal Devi.
He said this after surveying Ba's central business district and residential areas that had been hit by floods from Tropical Cyclone Josie.
He provided meals and rations as part of immediate relief assistance.
"I can say without any hesitation that this is worse than 2009," Kumar said.
"Every household has the same story in a sense that within a few minutes, the water came in and they were not able to save anything."
Lautoka-based Felix Chaudhary is a senior journalist with The Fiji Times.