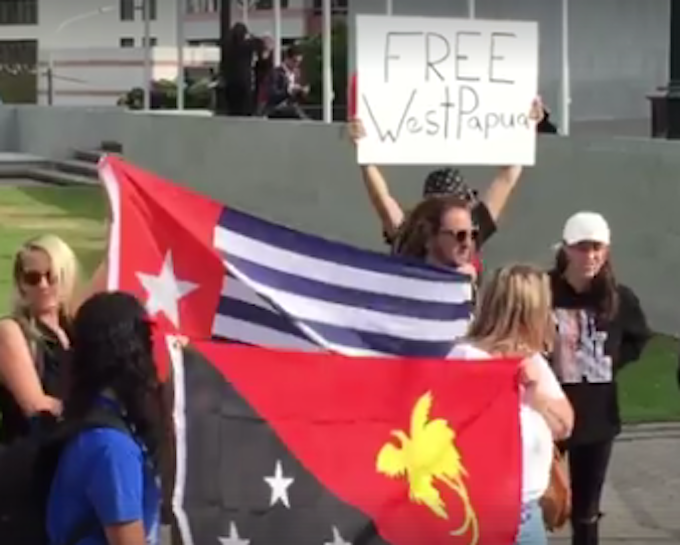 BRIEFING: By Colin Peacock of RNZ Mediawatch
While a former US President's visit preoccupied the New Zealand media this week, the state visit of the current president of Indonesia went mostly under the radar. You'll look in vain for reports about what was discussed at top-level talks about important issues.
Just before former US President Barack Obama flew in to New Zealand, a leader described as "Indonesia's Obama" by Stuff this week touched down on Monday.
Indonesian President Joko Widodo represents the world's fourth most populous country and he is an interesting leader. The former furniture maker is a heavy metal fan only turned to politics 12 years ago.
Briefing the reporters last Monday, Prime Minister Jacinda Ardern told reporters: "Indonesia is an incredibly important potential economic partner for New Zealand."
READ MORE: Open letter to PM Ardern: Raise Papua human rights crimes with Jokowi
She went on to say that she had also raised some political sensitive issues including "freedom of speech and access of foreign media in the Papua region."
The Indonesian Embassy promoted the state visit via social media.
That media freedom issue is important for the disputed Melanesian territory of West Papua. Reporters have found it very difficult to get in to find out what's going on there.
Stuff, The New Zealand Herald, RNZ and Newshub all noted in their preview pieces that West Papua independence activists had been urging the Prime Minister to raise the issue too.
Witty remarks
On day one of the visit, most media outlets covered the photo opportunities and scheduled walkabouts in Wellington. President Widodo's witty remarks about Indonesian coffee and New Zealand sheep made for a big headline in the Herald the next day.
RNZ Pacific reported that the President and his team were greeted by Free West Papua protesters and flag-waving Indonesian patriots on parliament grounds, who tried to drown out each other's songs.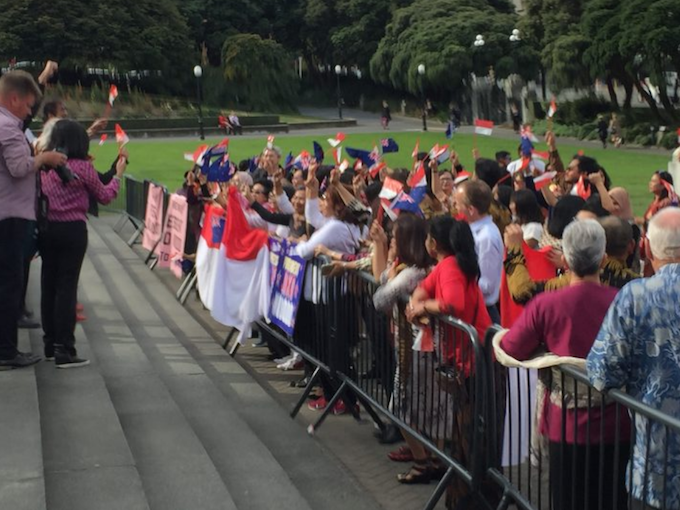 A video of that by RNZ posted on Facebook has been viewed more than 35,000 times.
So far, so good.
But you'll look in vain for media reports about what was said at those bilateral talks.
Photos were taken on behalf of all media by one photographer when the Indonesians met jacinda Ardern. Judging by the smiles on all the faces, it was going well at that point.
Similarly smiley pictures of a meeting with Simon Bridges appeared on his Twitter feed and that of the Indonesian Embassy afterwards.
Reporters ushered out
But the media reports of both meetings say reporters were ushered out of the room as President Widodo began to speak.
RNZ reported that the Indonesian government had requested "media opportunities for questions . . . were kept to a bare minimum".
Joko Widodo and Jacinda Ardern did not hold a press conference.
"I'm advised—that as far as the Ministry of Foreign Affairs recalls, there has been never a requirement for post bilateral stand-ups. They've always been case by case," Jacinda Ardern told reporters earlier
A joint statement was released on Tuesday covering areas of cooperation and common ground.
It said both leaders reaffirmed other's "sovereignty and territorial integrity" – not a comfort to those who hoped he would be pressed on independence for West Papua.
But that was a document drafted by diplomats – not by journalists
No change
In his preview of Joko Widodo's visit, on Scoop.co.nz Gordon Campbell predicted it would not change a situation once described by David Lange years ago.
"He had said it was almost impossible to get New Zealand to think about the huge nation sitting right on our doorstep," Campbell wrote.
It seems he is still right about that.
And Joko Widodo seems capable of handling the media.
On The Panel on RNZ National last Tuesday Jim Mora noted Joko Widodo brought the house down with thoughts about politics and the media during a speech last week in Australia.
"Since the arrival of Netflix the politicians have no choice but to turn politics into reality TV, because if we don't, all of you will watch House of Cards and Stranger Things instead of watching us," he said.
Republished from RNZ Mediawatch by Pacific Media Watch.