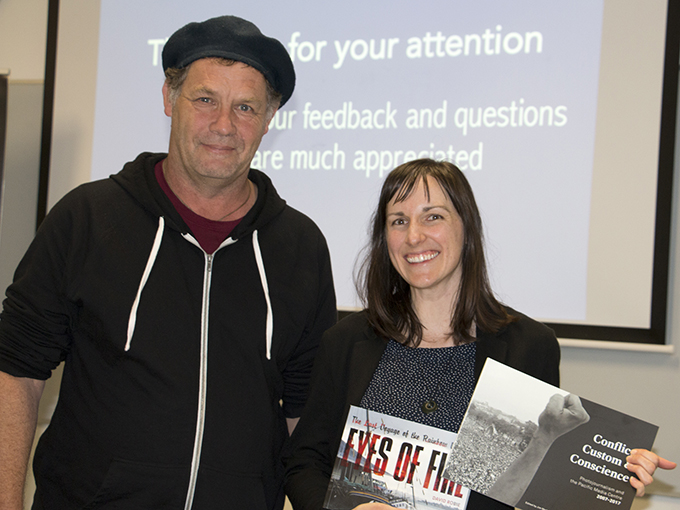 By Jean Bell in Auckland

A loose collection of elite groups shape the global language and thinking around food safety in the nuclear era, says a researcher who has been studying the Fukushima disaster in Japan seven years ago.
This cohort, formed in the 1960s and dubbed by the researcher as the "Transnational Nuclear Assemblage", includes government and business institutions that produce ruling texts on radiation protection that determine safe levels.
A core idea was that of narrative and approach to issues, especially relating to different "realities", said Karly Burch, a doctoral candidate at the University of Otago who was speaking at a public seminar hosted by AUT's Pacific Media Centre.
The seminar focused on the governance of "safe food" after the Tokyo Electric Power Company's (TEPCO) Fukushima Daiichi nuclear power plant explosions in the wake of the 9.1 magnitude Tōhoku earthquake and tsunami on 11 March 2011.
"Multiple realities are possible, but sometimes the ruling elite wants to enact a certain reality and we are convinced there is only one way to do things but in fact there may be many."
The anniversary of the disaster was last Sunday.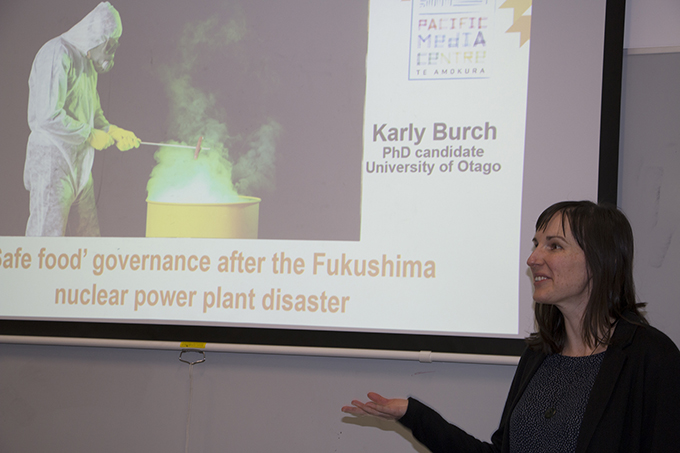 Burch moved to Japan in 2008 and lived in the Kansai region. After two years, she moved to Europe to do her masters degree research in agroecology. At the time of the disaster, she was in Austria and she returned to Japan.
Radiation discourse
Her research "questions how the Japanese government and agricultural industry encourage people to eat food that possibly contain TEPCO's radionuclides, and how this works".
Radionuclides are unstable isotopes that release particles to reach a more stable state, Burch said.
Ionising radiation is the most concerning radiation as it can damage cells. These radionuclides cannot be sensed by humans and radiation machines are required to identify objects or food with radionuclides.
When thinking about institutional ethnography and tracing ruling discourses, Burch began to consider how the ruling discourses and the language used to discuss radiation emerged.
She also took into account how discussion around safe food is "contained" within these ruling discourses, and "how do we all participate within that containment".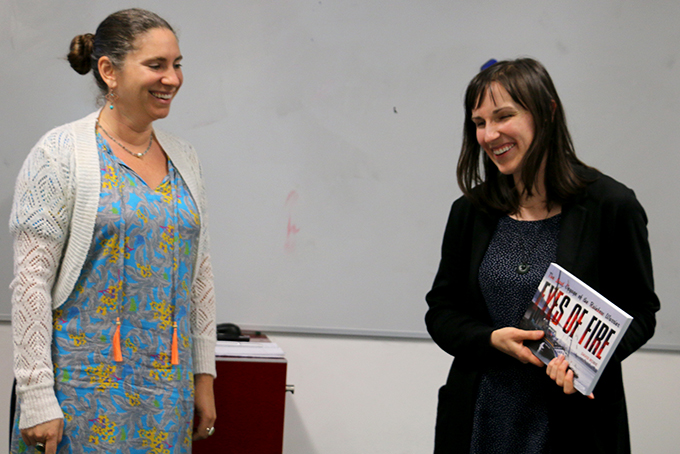 Burch used institutional ethnography as a way to trace how discourse, documents or media link everyday people to this attempt to rule and coordinate the way people consume and think about food safety.
Burch also borrowed theory relating to material semiotics from science and technology studies.
'Untouchable'
She said that while science has been considered almost "God-like and untouchable" in the past, material semiotics considers how all types of objects, both human and non-human, are used and involved in scientific research.
"It's not a controllable system, there's human and non-human actors relating with each other," Burch explained.
"The discovery of xrays and radioactivity dates back to the 1890s," Burch said.
The International Committee on Radiation Units and Measurements was formed as a response to the damage radiation was causing, with people beginning to suffer injuries or even dying due to exposure to radioactivity, Burch said.
"Scientists were looking at ways to discuss radioactivity with each other. They needed to have shared units and measurements."
Jim Marbrook, a documentary maker and AUT lecturer in screen studio production, attended the seminar.
Marbrook has twice been to Japan researching a film he is working on, and found the seminar interesting.
"I thought it was a really interesting topic to research," said Marbrook. "It was particularly interesting how she analysed the discourse of protection agencies…and compared that to the dialogue that was going on between the people who had to evacuate."
Jean Bell is contributing editor of the Pacific Media Centre's Pacific Media Watch project.