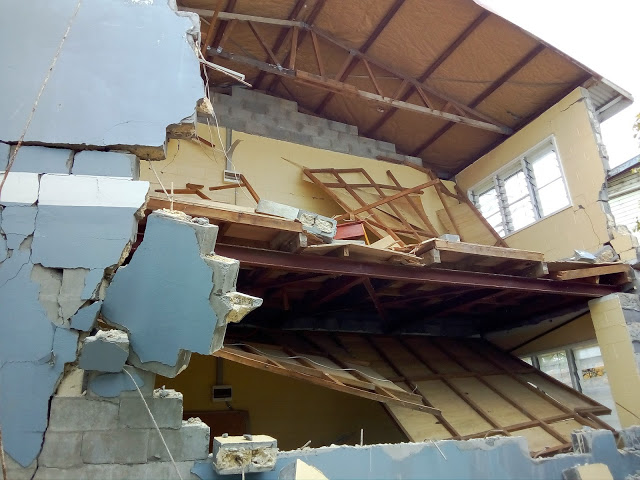 By Sylvester Gawi in Mendi
Local community leaders have taken charge of care centres in the Southern Highlands province of Papua New Guinea as they await food, clothing and other relief supplies to be delivered.
Acting Southern Highlands Provincial Administrator Thomas Eluh said six care centres had been set up around SHP by locals.
The death toll yesterday stood at 37 while there have been 25 unconfirmed deaths reported. Sixteen deaths have been reported in Hela.
Road links into most of the affected villages have been blocked by debris from landslips piling up. Some sections of the roads were badly damaged by the movement from the earthquake.
Police from the Mobile Squad based in Mendi have been grounded in the last 24hours after their fuel supply tanks were also damaged by the earthquake.
Most shops and fuel stations have been reportedly closed following damages from Monday's earthquake and the aftershocks that are constant in the province.
The Agiru Centre which houses the provincial administration has also reported damages to its offices and equipment and has been condemned by authorities. The provincial administrator and the disaster team are now operating out of the provincial police command in Mendi.
Nursing school destroyed
The Mendi School of Nursing was one of the institutions I have visited that has most of its buildings destroyed by the earthquake.
There is now a greater need for funding to be made available through the National Disaster Office so that logistical support can be provided to distribute relief supplies.
In Hela, a total of 16 deaths have been confirmed by the Hela Provincial Hospital in Tari. More causalties are expected to be reported in the coming days as volunteers are dispatched to gather reports.
Tari-Pori MP and Finance Minister James Marape said about 40 percent of Papua New Guinea's revenue would be affected if the Hides operations was shut down.
Minister Marape said the government is confident that this would not really affect the budgetary allocation for 2018.
Hela's political leaders also joined Minister Marape and Governor Philip Undialu to show solidarity and support towards addressing the plight of their people affected.
The provincial disaster response team in Hela is also working together to address the situation.
Funding allocations
The National Government has committed K450 million towards the disaster. The disaster committee has made allocations for the initial K100:
K40 million will be spent to fix the road infrastructures damaged by the earthquake so that affected areas are accessible for relief supplies to be delivered.
K10 million to assist schools and education institutions buildings damaged by the disaster and another K10 million for health services.
K23 million has been set aside for transport, logistical support and other areas to provide relief assistance.
The remaining K350 million will also be spent on the same purposes once assessment reports of the extent of the damages are confirmed and brought to the disaster team's attention.
In a statement released yesterday, Oil Search has committed K6 million in donations in cash and kind in disaster relief efforts to both Hela and SHP.
The Australian government has begun to fly its supplies to Moro on its Australian Defence Force Hercules plane loaded with relief supplies.
New Zealand's donations will arrive today.
Sylvester Gawi is a Papua New Guinea journalist who blogs at Graun Blong Mi- My Land where this article was first published. It has been republished by Asia Pacific Report with permission.