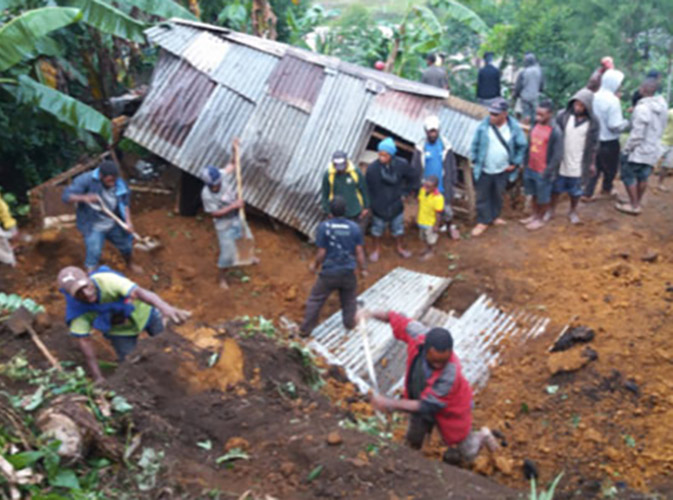 By Scott Waide of EMTV News
While the multibillion dollar mammoth petroleum company Exxon declared "force majeur" and another counted its financial losses, one family from Magarima in the Southern Highlands was this weekend mourning the devastating loss of their last born son and his young family.
Twenty-one-year-old Jack Wapol Mawe had already run out of the house he and is family had been sleeping in that night.
But then when he went back into the small building to pull out his wife and baby, the landslip buried them in the house.
"We found him frozen in motion… his hands reaching out to his young wife and first born son when they were all buried," said Fr Pius Hal the Catholic priest at the Mendi Diocese and an uncle to Jack Mawe.
Jack had recently married Regina. They were transiting through Mendi with their son when the earthquake struck and killed all three of them.
Yesterday, doctors at the Mendi Hospital completed the post mortem and today, the family was taken by road to Magarima where they are from.
"I had not seen him for a long while. I think he was feeling a bit shy of talking to me because he had married quite early. He would have been about 20 or 21. His wife would have been about the same age.
"They had come from Hagen. It was the first time I had seen him in many years. That night he was gone."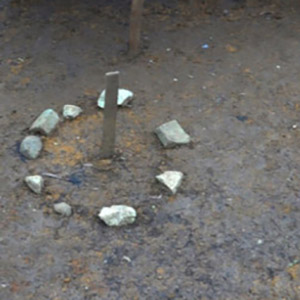 Circle of rocks memorial
At the site of the landslip in the centre of Mendi town behind the local CLC church, a small circle of rocks with a short wooden stake in the middle marks the place of death.
"They're gone," says a relative. "We're looking after the place."
Much of the house is still buried. The hauskrai is deserted. Three young lives were cut short just as they begun their journey together as a family.
In distant Komo, several hours from Mendi town, the roads are cut off. From the air, it looks like it's been cut to shreds by giant claws that ripped the ground open.
An Indian priest who travelled in from Tari today, said his parishioners told him at least 14 people have died. Some of the areas are too far to reach and too difficult without road access.
Help is coming, the government says. A state of emergency has been declared and K450 million allocated.
The Australian government, MAF and Oil Search are on the ground in the three provinces of hela, Southern Highlands and Western Highlands but it will take weeks before everyone who needs it receives it.
Scott Waide, a Lae-based senior journalist for EMTV News, blogs at My Land, My Country, where this article was first published. He also posted a short update on The Pacific Newsroom today saying the Acting Administrator for Southern Highlands, Thomas Eluh, had confirmed that 37 deaths had been reported with 25 more unaccounted for so far. He appealed for more aid.