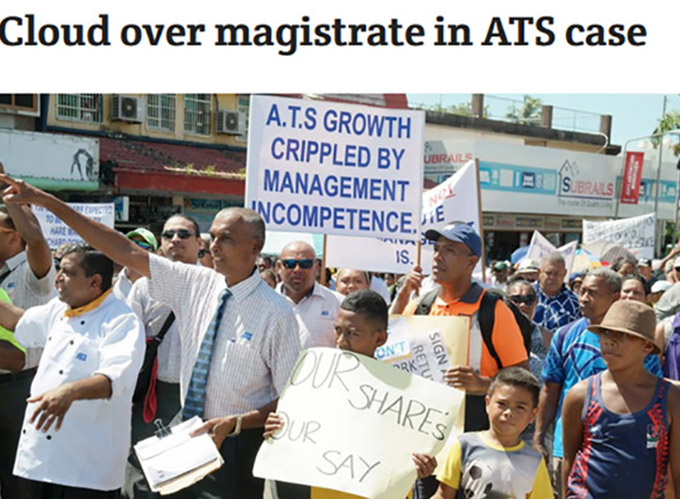 Pacific Media Watch Newsdesk

Islands Business managing director and editor Samisoni Pareti has again been questioned by Fiji police over an online article involving a local magistrate, the news magazine reports.
Pareti was today called to Criminal Investigation Department headquarters for the second time this week to answer allegations on an alleged breach of the Public Order Act.
The Director of Public Prosecutions will decide whether Pareti and colleague Nanise Volau must answer charges relating to alleged incitement to sedition.
LISTEN: Alarm in Fiji over police investigation into Islands Business
READ MORE: Police grill magazine editorial staff over story
Former IB publisher Netani Rika was questioned earlier today and released, the news magazine reported.
On Sunday, police questioned Rika, Pareti and Volau in connection with an article on Andrew See who recently ruled in favour of Air Terminal Services Limited (ATS) workers in an industrial dispute over Nadi International Airport. IB had alleged in its report that the magistrate's contract had been terminated three weeks after his landmark ruling on January 20.
Islands Business reported on its social media website that police were "being assisted in their investigations" by Chief Registrar Yohan Liyanage, and Fiji Sun journalist Jyoti Pratibha, a claim later denied by the reporter in the Fijiian Newsroom social media page.
FBC News reported late this afternoon that police spokesperson Ana Naisoro had said Rika had been released while Pareti and Volau were still being questioned.
'CLOUD OVER MAGISTRATE' STORY CONTROVERSY
Cloud over magistrate in ATS case – The Islands Business article that stirred the controversy
Alarm in Fiji over police investigation into Islands Business – ABC
Be 'responsible, journalists reminded – Fiji Times
Police question magazine trio – Fiji Times
The Real Issues behind the ATS dispute – Fiji Labour Party
Air Terminal Services
Fiji police issue permit for FTUC march – Islands Business