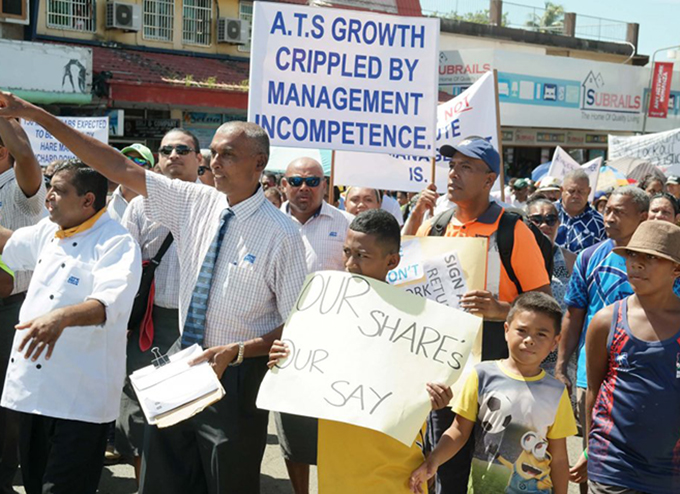 Pacific Media Watch Newsdesk
Islands Business managing director Samisoni Pareti and journalist Nanise Volau have been questioned by Fiji police over a story published online by the Suva-based regional news magazine, IB reports.
This follows the article published by Islands Business about Magistrate Andrew See who ruled in favour of Air Terminal Services (ATS) workers locked out for more than a month over an airport industrial dispute.
Pareti and Volau are being questioned under Fiji's Public Order Act.
Police "hope to lay charges of incitement", IB reports on its Facebook page.
Former publisher Netani Rika who resigned in November to work full time for the church was questioned earlier today, the magazine said.
Fijian Media Association general secretary Stanley Simpson said later in a statement on the Friends of Fiji Media Facebook page that Police Commissioner Sitiveni Qiliho had confirmed to the FMA that Samisoni Pareti was questioned this afternoon and released at 4.30 pm.
Netani Rika had confirmed they were now safe at home.
"Police had taken their laptops and phones, hence their inability to communicate after release," Simpson said.
Fiji goes to the polls in a general election later this year.
The controversial article:
CLOUD OVER MAGISTRATE IN ATS CASE
By Nanise Volau
AUTHORITIES are tight-lipped about the future of Magistrate Andrew See who presided over the dispute involving employees of Air Terminal Services.
Islands Business has been tipped off that Magistrate See's contract has been terminated, three weeks after he ruled in favour of the employees.
Contacted in the Lautoka Magistrates Court a short time ago, Magistrate See, an Australian, declined to comment or answer any questions relating to his work.
He referred us instead to Chief Registrar Yohan Liyange in Suva.
Said Mr Liyanage: "This is news to me and I am not aware of any changes, but if you call me on Monday, I can give you an updated record."
Sources however in Lautoka, where Magistrate See is based and in Suva, say the Australian Tribunal's contract has not been renewed.
In his landmark decision on 20 January, Magistrate See ordered that the 225 workers of ATS be returned to work in accordance with the terms of their employment contract, and on a case-by-case basis, that ATS should ensure that the pay and entitlements of each employee were reviewed and, where necessary, reinstated,
See is a Brisbane-based lawyer and industrial relations consultant. He specialises in all aspects of workplace relations, including human resource management, industrial relations, workplace health and safety and discrimination.
He was appointed in 2011 as an ad hoc  Resident Magistrate in Fiji, where he sits on the Employment Relations Tribunal, the Tax Tribunal, the Customs Act Court of Review and the Judicial Services Commission Disciplinary Tribunal (non-judicial staff).