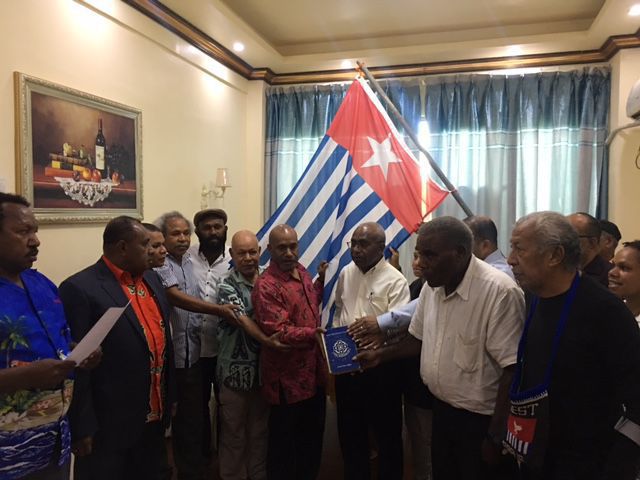 By Len Garae in Port Vila
The executive of the United Liberation Movement for West Papua (ULMWP) has complied with Papua New Guinean Prime Minister Peter O'Neill's request to unite and is confident he will vote to support West Papua's application to become a full member of the Melanesian Spearhead Group.
O'Neill is chairman of the MSG in Port Moresby which is meeting next week.
ULMWP spokesman Jacob Rumbiak said its week-long meeting in Port Vila had resulted in the spirit for West Papua to be more determined, organised and unified than ever before to end the alleged genocide by Indonesia of their people in West Papua.
READ MORE: Asian rights body calls for more action over Papua health crisis
In its meeting, ULMWP has made changes in its leadership, structure, bylaws as well as membership.
Rumbiak said the executive produced clear job descriptions, agenda, action plan, tactics and and strategy.
"The agenda was submitted by the executive committee, endorsed by the legislative committee and approved by its judicial committee," Rumbiak said.
While the ULMWP executive is attending the MSG meeting in Port Moresby next week, Rumbiak said Papuans were still dying at the hands of the colonial power Indonesia.
Poisoning incident
For example, last week yesterday a young leader of the National Parliament of West Papua, Wendi Wenda, 20, died in a suspected poisoning incident, Rumbiak said, translating from an international report.
Speaking for the Vanuatu Free West Papua Association executive committee and Vanuatu Christian Council, Job Dalesa called on all churches in Vanuatu to pray for West Papua.
"If West Papua is a global issue, then it also requires active global engagement as well," Dalesa said.
"Australia also has to rethink its foreign policy regarding its bilateral defence cooperation with Indonesia when we speak of global engagement because, indirectly, Australia seems to be contributing towards reports of longstanding atrocities in West Papua."
Dalesa also challenged PNG and Fiji to recognise the positions they had taken regarding West Papua.
In PNG, Dalesa said he believed the PNG Council of Churches would now adopt a more pro-active role to support West Papua.
At the European Union (EU) and the Africa Caribbean and Pacific (ACP) bloc in Brussels, Dalesa called on the government to keep the momentum going by appointing an "aggressive voice" in the absence of the former Ambassador to the EU, Roy Micky Joy, to "keep knocking and voicing West Papua's plight" globally through the EU and ACP.
He reminded the government that the people of Vanuatu could do as much as they wanted at home and in the region, but that without concrete support from EU and ACP in Brussels, the West Papua issue would not advance internationally as fast and as effectively.
Len Garae is a senior journalist of the Vanuatu Daily Post. Daily Post articles are republished by Asia Pacific Report with permission.