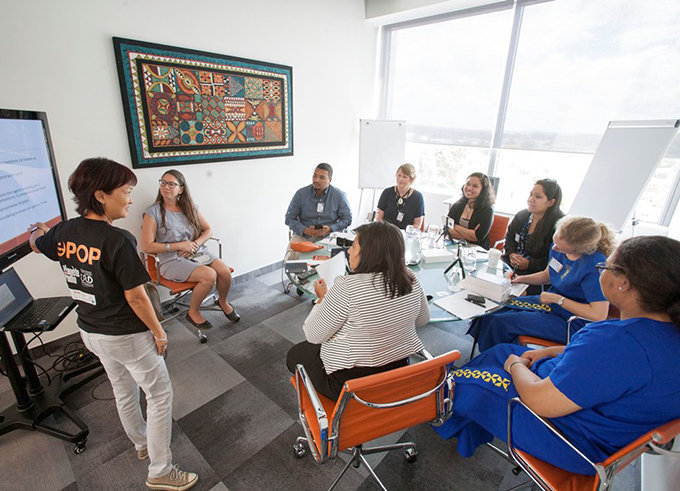 By Dr Sylvia C. Frain of the Pacific Media Centre
An international TechCamp event, funded by the US Embassy in New Zealand and organised by the University of Otago's Health Science division, has brought together public health professionals from across the Pacific to participate in technology training and capacity-building workshops.
Participants from Fiji, Cook Islands, Federated States of Micronesia, Marshall Islands, Niue, Palau, Papua New Guinea, Sāmoa, Solomon Islands and Tonga worked on developing local strategies to address mosquito-borne diseases and implement vector control on January 25-26.
Forty Pacific health communicators were trained in new media technologies to foster innovation and develop solutions to combat diseases such as zika and dengue fever.
The participants collaborated with other Pacific health workers to foster timely and accurate information to their communities, regional policy makers, and international funding bodies.
Smart phone strategies
One workshop, led by Mina Vilayleck of the French National Research Institute for Sustainable Development (Institut de Recherche pour le Développement), introduced smart phone interviewing techniques to health communicators from Aotearoa, Fiji, Hawai'i and Palau.
As the communication adviser for the ePOP (e-Participatory Observers Project),  Vilayleck trains community members in photographic, video, and radio technologies to create impactful content to present to local, regional, and international communities and media outlets.
Based from New Caledonia, ePOP links science, society, and media, creating a platform to raise awareness, publicise online activities, and support action plans.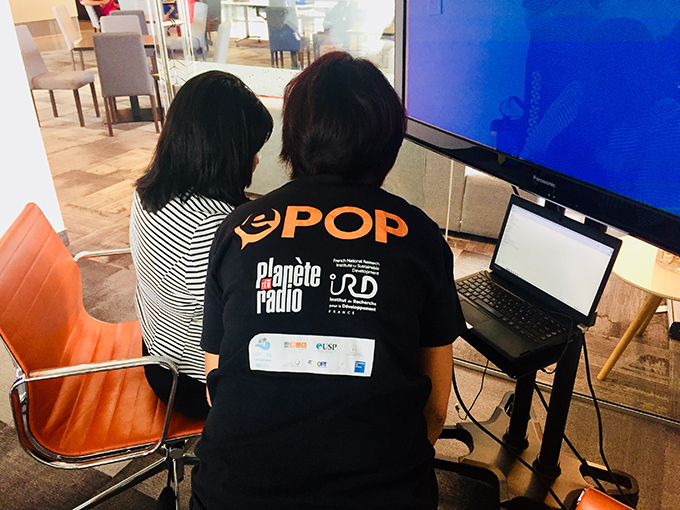 ePOP is country-specific and flexible depending on the situation and context.
The project creates a community of observers who gather information to share, assists with creating an editorial narrative, and helps with new media production.
Local observers use smartphones to interview and document and gather comments to create content.
If needed, they send the raw visual data to ePOP which assists with the development of a storyline which includes bilingual text and local dialects.
This enables the communities to share with other intertropical countries facing similar challenges and enables them to exchange their experiences.
Training future trainers
In addition, ePOP conducts 3-day trainings in-country with the aim of "training future trainers" in the community.
The course covers how to create a storyboard and narrative before you film, how to use a smartphone and to always shoot horizontally, the importance of sound and ensuring that the light is behind you, video capturing basics of remaining stable and slow with your movements, asking the interviewee to remove their glasses and to wait three seconds before responding to making editing later easier, and editing and post-production.
The current Pilot Site 1, includes documentation points in New Caledonia, Fiji, Vanuatu, and Aotearoa New Zealand.
Specifically, for issues surrounding climate change, she emphasises the necessity of including local and indigenous knowledge along with new technologies to document the emotions and observations from the communities experiencing the changing environment.
The short videos communicate to the media and policy makers the resiliency of Pacific communities and highlights their perspectives and voices within climate change circles.
Vilayleck spoke of how receptive the youth are to this form of data collection and storytelling and adaptable to new technologies.
For her, the goal is to share the knowledge and ePOP is committed to community participatory approaches.
She encourages those working in the Pacific, and specifically in the Pilot 1 sites, to get in touch with her if interested in collaborating.
Dr Sylvia C. Frain is a postdoctoral research fellow with Auckland University of Technology's Pacific Media Centre.