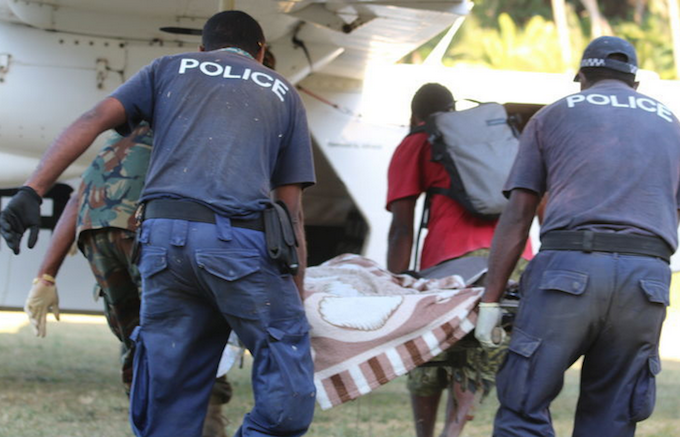 By Richard M. Nanua in Port Vila
Some Vanuatu police officers have raised dissatisfaction on the implementation of the Government Remuneration Tribunal (GRT) ruling taking effect today, claiming it might negatively impact on security in the country.
After receiving a letter from the Police Commissioner, Albert Nalpini this week, police officers (lower ranking officers who did not want their names revealed) said they had all entitlements – such as detective, driver, prosecutor and sergeant allowances – removed with an increase that did not make any difference in their wages.
The unhappy police officers said that in their letters from the Commissioner, he had said the GRT report made a major determination that covered sworn police officers (Determination 15 of 2017).
The result of Determination 15 would be an overall increase in salary of VPF members to reflect market rates and to recognise the complexities and unique nature of policing work, they were told.
The determination also required that job-related allowances (JRAs) and take-home entitlements be incorporated into salary and no longer paid as a separate entitlement.
The GRT determination established that any salary adjustment would be in accordance with performance guidelines and budget availability.
The review of the salary increments would occur every three years rather than annually as in the previous situation.
'Take-home pay'
The police force allowances that GRT has decided to remove are job-related allowances and other "take-home pay entitlements" that are to be absorbed into the revised salary rates.
But some police officers said that according to the new structure, the job related allowances – including the detective allowance, drivers allowance, instructor allowance, musician allowance, prosecutors allowance, tradesmen's allowance, traffic examiners allowance, and sergeant allowance – had been wiped out from their entitlements.
They said that the take-home pay entitlements that were also taken from them are child allowances and housing allowances.
They are concerned that some of them will be affected with the change, especially the lowest paid in the force.
They said the senior police officers would benefit from the new structure but it was "a disaster" for police constables and the lowest ranks within the VPF.
Some of the police said that they had "put their lives on the line" every day for citizens.
They said that they were risking their lives for civilians who they did not even know they were attending dangerous situations.
Drug, murder cases
They deal with drug cases and burglars, rapists and murderers.
They get assaulted by criminals in what was a hard and dangerous job.
When the Daily Post gauged the view of some members of the public in town for their view, they appealed for a significant increase on the police wages.
Meanwhile, Internal Affairs Minister Andrew Napuat said he had reminded Commissioner Nalpini more than three times and Commander South, Jackson Noal, of any issue that may arise on the beginning of GRT pay that commences today.
The minister said he welcomed comments and anyone who was affected by the GRT, claiming if there was any dissatisfaction caused by that new structure then it was a top priority to deal with it.
He encouraged the unhappy police officers to talk to their superiors or to step into his office.
School teachers told the Daily Post yesterday that they were also affected.
They said that GRT was likely to affect teaching not only in Port Vila but Vanuatu as a whole.
The teachers said none of them were happy with this new structure that was only benefitting senior officers.
They appealed to the government to revisit or "hold" GRT pending a wider consultation.
Richard M. Nanua is a Vanuatu Daily Post journalist. Asia Pacific Report republishes VDP stories with permission.