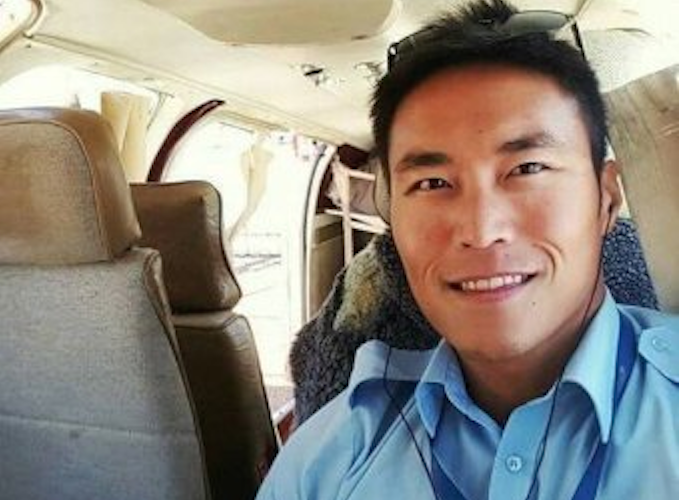 By Malum Nalu in Port Moresby

As I look into the face in the photo
Into the eyes of the man I never knew
I see the pain
The hurt
He shows me the cloud-covered Saruwaged
The treetops
I hear the crunch
As the plane hits the branches
I see the hope in his eyes
As he makes an SOS
Hoping against hope
In the freezing cold as the pain sets in
I see the hurt
Of missing Christmas with loved ones
Help is not coming
Darkness is closing in
– To the memory of David Tong
who lost his life in the Saruwaged Range
serving the people of Kabwum, Morobe and Papua New Guinea
On the afternoon of Saturday, December 23, I received a text message from an Australian woman friend of mine asking if I was aware of a plane crash in the vicinity of Nadzab Airport in Papua New Guinea's second city Lae.
Not being aware of anything, and thinking that this was fake news, I didn't respond.
It was only overnight that sketchy reports started filtering in from Lae of a North Coast Aviation plane crash somewhere in Kabwum in the mountains of Morobe.
On the evening of Christmas Eve, I called up my good friend of many years in Lae, Simon Elap, who is the chief engineer of NCA.
He confirmed to me that the plane, a Britten Norman Islander owned by NCA, had crashed on the morning of the previous day in bad weather in the mountains of Kabwum when returning to Lae.
Pilot was alive
Elap told me that the pilot, an expatriate, was alive and had made contact.
However, rescue teams couldn't make it in because of the weather.
Elap said Kabwum locals were walking in while a search and rescue team from Porgera mine would move in on the morning of Christmas Day.
I was concerned as just the previous month, on November 26, a good mate of mine, NCA chief pilot Thomas Keindip, had died in Lae after a short illness.
On Christmas Day, after a barbecue with my kids at home, I again called Elap and the news wasn't too good: The search and rescue team from Porgera failed to make it into the crash site.
The crash site was 3000m above sea level on Mt Saruwaged in the rugged Saruwaged Range.
Rugged terrain
I have flown over the Saruwaged to Kabwum several times during my younger days as a reporter in Lae and know it as rugged terrain with thick, tropical rain forest.
On Tuesday, December 26, I called Elap in the evening and he told me the sad news: The search-and-rescue team reached the crash site 3000m above sea level on Mt Saruwaged that day but the pilot was dead.
I shed a quiet tear as I tried to imagine what the pilot had gone through.
Mt Saruwaged (Bangeta) in the Saruwaged Range of Morobe, where the fatal plane crash took place, is the fourth highest mountain in the country at 4121m.
The three taller peaks are Mt Wilhelm in Chimbu (4509m), Mt Giluwe in Southern Highlands (4367m), and Mt Boising in the neighbouring Finisterre Range of Madang (4150m).
The pilot was alive when the plane crashed on Mt Saruwaged on Saturday, December 23. However, rescuers did not get in until Tuesday, December 26, when he was already dead.
I can imagine the pain, misery, loneliness and freezing cold on the mountain.
The Saruwaged is not far from Nadzab, as the eagle flies, and I know this from travelling several times.
You fly from Nadzab, over the Erap River, into Nawaeb and across the rugged Saruwaged Range into Kabwum.
Could the pilot have been saved?
The weather had been very bad, however. Could the pilot have been saved if we had put in extra effort?
God only knows.
I then found out that pilot David Tong was not just an ordinary aviator.
He was one of the top pianists in Australia and the world.
He could have chosen to remain in the top music halls of the world but opted to fly in Papua New Guinea.
That fact about Tong's life became known after his death.
His body, meantime, remains at the funeral home in Lae until arrangements are made this week.
His mother flew in from Australia to see the body of her son and was moved to tears after seeing the display of emotion shown by NCA staff and the people of Morobe.
Frequent guest pianist
According to the Greater Geraldton Regional Library website of Australia:
"Born in Macao in 1983, David Tong migrated to Australia in 1988 and soon began taking piano lessons.
"Following an extensive period of study, he went on to study at the prominent Juilliard School of Music in New York and was awarded the Vladimir Horowitz scholarship.
"In addition to having been a frequent guest artist with all Australian symphony orchestras, David was regularly invited to appear with many of today's top orchestras, including the Hungarian Symphony Orchestra in Budapest, New York Philharmonic, as well as with the philharmonic orchestras of Rochester, Naples (Florida), and Hong Kong.
"Of significant importance in David's career was a performance with the Sydney Symphony Orchestra at the 2002 Sydney Festival's Gala Domain Concert, where he performed to an audience of more than 90,000 people."
Since 2014, Tong had worked as a commercial pilot.
He was based in Geraldton and worked as a line pilot for Geraldton Air Charter before moving to PNG in 2016 to join North Coast Aviation.
Tong, 34, survived the crash and made calls on his mobile but bad weather prevented rescuers from reaching him for three days.
The pianist Zsolt Bognar writes: "It is with great sadness that I learn my old friend David Tong was found dead on Tuesday from injuries sustained in a plane crash.
"I remember first meeting him in Texas in 2001 and being struck by his sunshine-filled spirit, his strong Australian accent, and vivacious temperament.
"He was an incredible pianist with a breathtaking technique – I remember how he burst into my practice room and deployed Chopin Etudes with ease–and as a human being and friend he will be missed.
"What devastating news."
David Tong, during the short time he spent serving the rural people of Kabwum, Morobe and Papua New Guinea, touched us all like an angel.
Thank you, David Tong, and Thomas Keindip before you, for lifting us all to greater heights.
Malum Nalu is a senior journalist with The National and a celebrated PNG blogger. His National Weekender article is republished by Asia Pacific Report with permission.