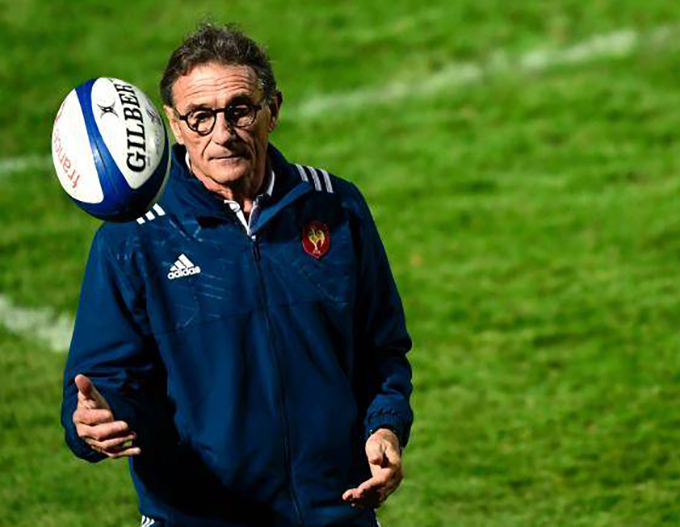 TRIBUTE: By former Planet Rugby editor Danny Stephens
Not three hours had passed since last week's message from Queen Elizabeth II said she was "…hoping that they [the French] rediscover their swagger" when the news broke that Bernard Laporte had ended Guy Novès' attempts at helping the French do just that.
It was news that, in all probability, has ended Noves' rugby career unless Toulouse come calling once more. A one-club man, he spent 13 seasons on Toulouse's wing as a player and 22 years orchestrating the team in that famous one-kneed coaching posture (not forgetting a couple of years prior as an assistant).
His time in charge of Toulouse was nothing short of glittering: nine championships, four Heineken Cups and a pair of runners-up medals for each tournament as well. He was responsible for probably three of the great generations of French players emerging and dominating – the first of Califano, Pelous, Castaignede, Ntamack; the second of Servat, Elissalde, Michalak, Jauzion, Clerc; the third with Maestri, Dusautoir, Picamoles, Medard.
He was considered for the national job after the 2007 World Cup, but declined the offer to stay with Toulouse.
It wasn't the first time he had declined the national team either: he ended his own international playing career.
After declaring himself not yet recovered from a thigh injury ahead of one match, the selectors didn't pick him again when he did declare fitness before the next. He promptly quit, alleging a lack of contact and respect from the federation.
His decision to reject the national team and stay with Toulouse in 2007 smacked of lingering bitterness from that, as well as giving the impression that he simply wasn't interested in anything outside la Ville Rose.
Embodied Frenchness
Yet, he embodied Frenchness. His unique and mildly eccentric coaching posture, his perpetually well-groomed appearance (tracksuits looked stylish on him) and weighty antipathy toward the English – he once ended a radio interview with the words "I'll take no lessons from the English" – all combined to leave you in no uncertain terms where he came from, as did his occasional explosions of temper; he was led away by police after the Heineken Cup win in 2005 when stewards refused to let his family onto the pitch to celebrate with him.
But it was a strange last decade. He seemed unable to find a fourth generation to bring through at Toulouse, up against the stiffer competition that other clubs imported and finding no way to cope with the increasingly attritional demands of the French season.
Toulouse looked outdated by the time Novès relented to take the national job.
He could not find selectoral consistency in the national team either, rarely his fault. Having started out looking to impose his own philosophy of forward bullies allowing graceful backs to play, combinations of injury and club/country overlaps left him returning to a more direct game, not his natural inclination.
And as a coach who loved to let his players express themselves, the international level playing structures seemed to be too antithesis, while the inconsistencies in selections – again, rarely his fault – also left him unable to achieve that which he had been able to at Toulouse.
Capacities for his teams to wow
But whatever the recent criticisms thrown his way, nobody should forget what Novès contributed to the game of rugby at Toulouse, the abilities and calibre of player he developed and nurtured, the capacities for his teams to wow.
That should be a legacy that lasts far longer than his time in charge of a national team governed by a national rugby framework in desperate need of a large shake-up.
His sacking smacks of scapegoating in some ways – which should be another reason Noves should proudly disassociate himself from the FFR and reflect on two decades of terrific rugby his Toulouse teams gave to us all.
France is due to tour New Zealand and play three tests in June.