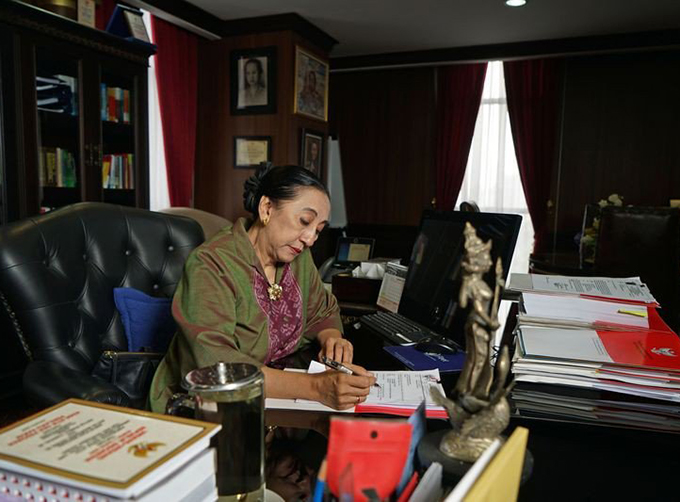 By Rieka Rahadiana and Yudith Ho in Jakarta
Indonesia is set to lose its first and only female constitutional justice, whose term is up next year, potentially dealing a blow to women's rights in a country where they're being challenged in the face of growing religious conservatism.
Maria Farida Indrati will end her second and final term in about eight months, leaving the nine-member board of justices entirely male on one of the two highest courts in the country — where cases on discrimination, domestic violence, early-age marriage and female political participation continually arise.
The constitutional court differs from the supreme court, where the top judges are all male and which determines final appeal in legal matters not deemed to be constitutional.
"The point of view I bring to the table is different from what my male colleagues present," the 68-year-old judge said in an interview.
It's not a certainty that Indrati's replacement, who likely will be chosen by President Joko Widodo from a list of three candidates picked by a committee, will be male.
While her successor won't be known for several months or even until after her departure, Indrati said there are several qualified women to consider. She herself was chosen by former President Susilo Bambang Yudhoyono in 2008 after decades of lecturing in law at the University of Indonesia and assisting lawmakers in drafting legislation.
In Indonesia, female law students prefer a career outside the courtroom rather than in it because "women don't like to be seen as argumentative or to debate," said Indrati, who plans to return to teaching full time when her term finishes. Quotas aren't the solution to increasing women's participation in public life, including on the bench, she said.
'Be unafraid'
"It is important that women take this role and be unafraid to take this role," said the judge, who suffered from polio as a child and walks with a limp.
Although when she was young she aspired to be a piano teacher, Indrati listened to the advice of her father, a journalist and former teacher who had wanted to complete his unfinished law degree.
He encouraged his daughter to study to become a law professor instead, according to her official biography.
When the constitutional court in 2015 declined a judicial review to raise the decades-old minimum legal marital age for women from currently 16 years old to 18, Indrati was the only justice with a dissenting opinion.
Raising the marriage age to 18 would allow girls more of a chance to secure their futures, Indrati said. The challenge was brought by a group promoting women's health. Activists are again appealing, seeking to have the case heard again.
Last week, Indrati cast a decisive vote in the court's decision rejecting by 5-4 a petition by conservative academics seeking to deem extramarital and gay sex as crimes punishable by prison terms.
She has also ruled in favour of other gender and minority-related cases such as pornography and blasphemy.
More difficulties
"It's not always the case where the existence of a female justice means the law will take the side of women," said Indri Suparno, a commissioner at the National Commission on Violence Against Women. "But the absence will give more difficulties to women to become more progressive."
Southeast Asia's biggest economy is considered a model of moderate Islam.
The president, known as Jokowi, has put more women into senior roles compared with other Muslim-majority countries — a record nine of 34 cabinet ministers, the most among the world's most populous countries.
High profile officials include Finance Minister Sri Mulyani Indrawati, Foreign Minister Retno Marsudi — a first in the country's history — and Maritime and Fisheries Minister Susi Pudjiastuti. Rosmaya Hadi became Bank Indonesia's only female deputy governor this year.
The country also imposes gender quotas for political party candidates put forward for public office.
In 2016, Jokowi launched the first nationwide survey on violence against women and children. However, he's been silent on calls from human rights groups to end virginity tests for women applying to the military and the police.
Polygamy app
Worries over women's rights have increased as attempts to hamper equality have been made more openly. A Tinder-like app, AyoPoligami, or Let's Do Polygamy, and a seminar called "The Quickest Way of Getting Four Wives" have sparked controversy.
Indonesia allows Muslim men to take up to four wives if granted by a court and approved by the first wife.
Some 26 out of 153 countries have women as chief justices, or 17 percent, according to a World Bank report in 2016 called "Women, Business and The Law."
Outside court
It's possible that the challenge to the law legalising the age of marriage at 16 may be heard again while Indrati is still on the bench.
Campaigners for women's rights say that women who marry young will miss out on what's being called a demographic bonus by 2030 — when the numbers of working-age people are greater than the numbers of elderly — by not being able to further their educations and embark on careers.
The government wants to improve its professional workforce, but allowing women to marry at 16 means they likely will have to stay home and raise families instead of being able to participate, said Zumrotin Susilo, chairwoman of the Women's Health Foundation, who was involved in the first appeal of the marriage law.
A Central Statistics Agency census in 2010 found 6.7 million out of 78 million women age 15 to 64 hold a bachelor's degree, or 8.5 percent. About 500,000 women have postgraduate degrees.
"Women have to fight for the presence of female justices and build strong communications and perspective at the constitutional court," said Suparno of the women commission.
The Jakarta Post