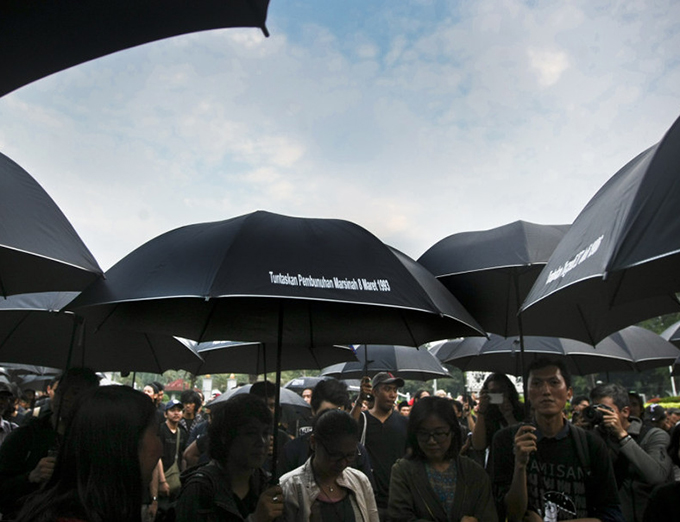 By Sheany in Jakarta
With its official launch in the country set for today, Amnesty International Indonesia has emphasised the need for the government to step up focus on human rights issues and warned that neglecting human right violations can impede the country's growth.
Speaking at a press conference in Menteng, Central Jakarta, the chairman of the board for Amnesty International Indonesia, Todung Mulya Lubis, said that despite progress in democracy, political life and the economy, Indonesia still needed to pay more attention to human rights issues.
"There's still plenty that must be done to resolve past human rights violations […] Indonesia won't have smooth progress if those remain unresolved, it will always obstruct the way," Todung said.
The London-based organisation hopes to push Indonesia to be a global player in upholding human rights with its local chapter.
"Amnesty International Indonesia wants to urge Indonesia to take a global role in the human rights movement. That's one of our dreams," said Monica Tanuhandaru, one of the board members.
She emphasised that economic development in Asia, Southeast Asia and Indonesia would be "meaningless without justice of human rights."
However, as the world bears witness to changing political dynamics across the globe, it is no longer solely the role of the government to ensure protection of human rights. Rather, it should be the product of a collective act from all members of society.
"[The] state is becoming weaker and weaker. Efforts to uphold and protect human rights must be done by civil society, but this doesn't mean that we deny the existence of the state," Todung said.
Uniting all movements
Amnesty International Indonesia hopes to "unite all human rights movements that are present in Indonesia," especially as it aims to urge the government to resolve human rights violations.
For decades, the Indonesian government has provided little clarity on how it will address past human rights violations, including violations allegedly committed in 1965 and 1998, as well as those resulting from conflicts in Papua, West Papua and Timor-Leste.
Promises that these violations will be duly addressed was popular among candidates during the country's last presidential campaigns, but real commitments to human rights from the current administration seem to have been overridden by priorities on other aspects, such as the economy and infrastructure development.
Sidarto Danusubroto, a member of the Presidential Advisory Board (Wantimpres), said that telling the truth in Indonesia was "not a simple process" and would likely require a long time.
While the government has programmes for human rights, it was facing "economic issues" that must be resolved, he said.
"I'm afraid that if the government also has to resolve past human rights violations, current programmes for the economy will weaken," Sidarto said.
Countries like South Africa and Chile, Sidarto said, had "built their memories of human rights" through museums.
'Dark past'
He reflected on the importance of these countries being able "to admit their dark past without the need to hide," and expressed his hopes that Indonesia would eventually get there.
"I hope, one day, we'll get there – where we don't have to be ashamed to speak of our dark past," Sidarto said.
Amnesty International Indonesia will launch its #JoinForces initiative on December 7, coinciding with the 517th Kamisan – a silent protest in front of the State Palace in Central Jakarta – as a form of solidarity to the protesters who have been demanding that the Indonesian government solve past cases of human rights abuses.
This had been initiated by friends and family members of 1998 student activist victims every Thursday afternoon for the past 10 years.
The organisation will also host simultaneous events across Indonesia between today and December 10, including in Bandung (West Java), Solo (Central Java) and Makassar (South Sulawesi).
The initiative is focused on combating growing "scapegoat" politics and the rise of negative populism that the organisation said had "undermined the basic rights of minority groups."