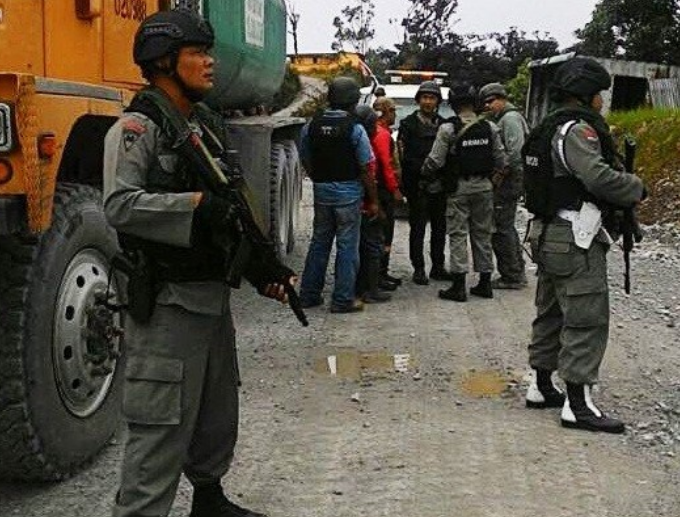 By Nethy Dharma Somba in Jayapura
First Brigadier Berry Pramana Putra, a member of the National Police's Mobile Brigade stationed in Timika, Papua, has been killed in an exchange of fire with unidentified gunmen on Utikini bridge, Tembagapura, Mimika regency.
The Jakarta Post reports that Berry died yesterday during a pursuit of armed assailants who were allegedly behind a shooting incident in the mining area of US-based PT Freeport Indonesia at Mile 60 to 67, Papua police Chief Inspector General Boy Rafli Amar said today.
"The victim died on the scene while Mobile Brigade members were in an exchange of fire with an armed criminal group on Utikini bridge, a day after the group shot at two patrol vehicles owned by PT Freeport," he said in Jayapura.
He alleged the group was behind security disturbances in Freeport's mining area. He also suspected it was the same group who seized two Steyr assault rifles and ammunition from members of the Mobile Brigade two years ago, as the same weapons were believed to have been used in the shooting that killed Berry.
The allegations arose from the bullet casings found at the scene.
'Group identified'
"We have identified the group, although we will not yet publish the name of the group," Chief Inspector Boy added.
No additional security personnel would be added despite the incidents, he said, adding that police would handle the issue in accordance with law enforcement procedures to end the security disturbances in Papua.
The Papua police delivered the body of First Brigadier Berry to his hometown in Bengkulu in a release ceremony led by Boy. As Berry had died on duty, the police also granted him a posthumous promotion to one level above his rank.
Nethy Dharma Somba is a reporter for The Jakarta Post.