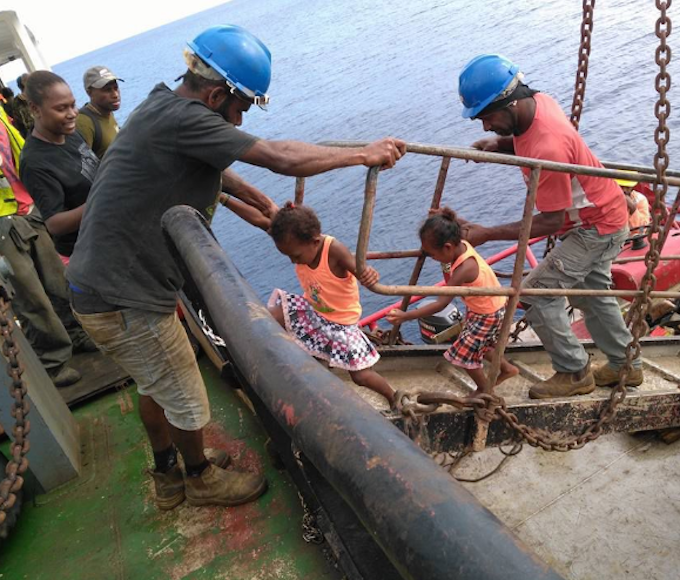 By Anita Roberts in Port Vila
Vanuatu's government is moving the entire population of 11,000 people from Ambae to the neighbouring islands of Pentecost, Maewo, Santo and Malekula in a massive exodus as fears rise of an imminent eruption.
People have begun fleeing their homes, having been told to bring few belongings. They have abandoned their gardens and livestock with clouds of gas and ash engulfing their villages.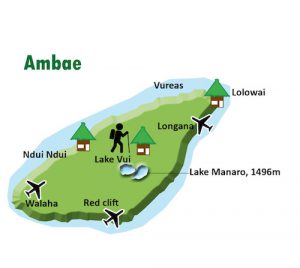 More than 6000 children, women and families are trapped in evacuation centers, homeless and in need of humanitarian assistance.
This is roughly 70 percent of the Ambae population.The displaced families came from villages in west and south, which are the most populated.
Shelters, food and water were about to be sent to the volcanic island when the government declared an immediate evacuation for the entire island yesterday.
About 2000 households in evacuation centers and families on other parts of Ambae thought earlier to be safely away from the Manaro Voui volcano must be removed from the island by next Friday, October 6.
The government has offered two public land areas on Pentecost – Loltong and Lonororoe – to initially house evacuees and the Penama Emergency Operation Centre.
Schools evacuated
Evacuation of 283 students from schools on Ambae have already begun and will soon leave for other islands such as Santo.
To find other safe places for the affected families, the Ministries of Land and Internal Affairs (MOIA) have been instructed by the Council of Ministers (CoM) to identify some plots of land on Maewo, Pentecost and Santo and begin the land acquisition process immediately.
Mass evacuation is needed for people's safety, said Prime Minister Charlot Salwai.
"Lombenben volcanic activity continues to increase but so far not showing a good sign," he told journalists in a media briefing. "It is impossible to predict whether it will increase or decrease like with cyclones.
"It is better to rescue people and save lives now than get blamed later when worse happens."
The PM said the government would need more money, apart from the Vt200million disaster provision to find safe temporary dwellings and meet their needs until such time they return back home.
It's very important for NDMO to keep a good recording on the total number of evacuees and where they are staying on each islands to ensure they get needy food, water and appropriate sanitation facilities, said the PM.
NDMO is taking immediate action to rescue the people and coordinate relief efforts with the support of the Penama Provincial Disaster and Climate Change Committee.
On Tuesday this week, the CoM declared a state of emergency and announced emergency funds for the needy communities.
A second CoM meeting was convened following a briefing between NDMO, the Ministry of Disaster Management with the PM yesterday,leading to the mass evacuation declaration.
Anita Roberts is a reporter with the Vanuatu Daily Post and the article is republished with permission.

RNZ's Checkpoint programme reports.