Pacific Media Watch Newsdesk
One of Cambodia's last remaining independent newspapers has announced it is closing today after 24 years, the latest in a series of blows to critics of Prime Minster Hun Sen.
The Cambodia Daily said today's edition would be its last after it was slapped with a US$6.3 million tax bill, which its publishers said was politically motivated, Al Jazeera reports.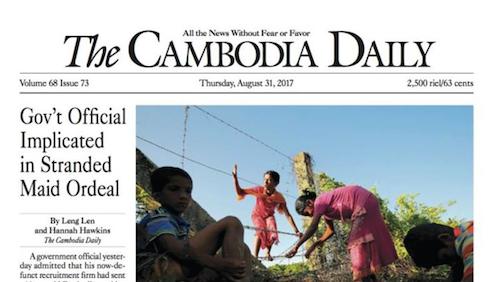 "The power to tax is the power to destroy. And after 24 years, one month and 15 days, the Cambodian government has destroyed The Cambodia Daily, a special and singular part of Cambodia's free press," the newspaper said in a statement.
The paper blamed "extra-legal threats by the government to close the daily, freeze its accounts and prosecute the new owner" for the closure.
The announcement came hours after Opposition Leader Kem Sokha was arrested and accused of treason.
READ MORE: Kem Sokha detained during Cambodia police raid
The Cambodia Daily was set up in 1993 by veteran American journalist Bernard Krisher in the aftermath of Cambodia's genocide from 1975-78 and subsequent civil war.
It publishes in English, but also carries some articles in Khmer.
Krisher sold the paper to his daughter Deborah Krisher-Steele in April.
'Arbitrary' back taxes
Last month, the Cambodian tax department said the paper owed $6.3m in back taxes, with Hun Sen branding the owners "thieves" in one of his recent speeches.
The paper said the figure was "arbitrary" and not based on an audit of its books.
"It's a dark day for press freedom in Cambodia," editor Jodie DeJonge told AFP news agency on Sunday.
"We just can't believe that on Monday morning we are going to wake up and not come and put out another newspaper. It's a tremendous loss."
The paper is not the only independent media organisation to come under pressure. Tax probes have also been announced by the government against the US-funded Radio Free Asia and Voice of America, who say they have complied with local laws.
A group of local radio stations which carried Khmer-language VOA and RFA content have also been shuttered or banned from broadcasting their content.
Last week, the US expressed "deep concern" over the state of Cambodia's democracy after the government there ordered out an American NGO.