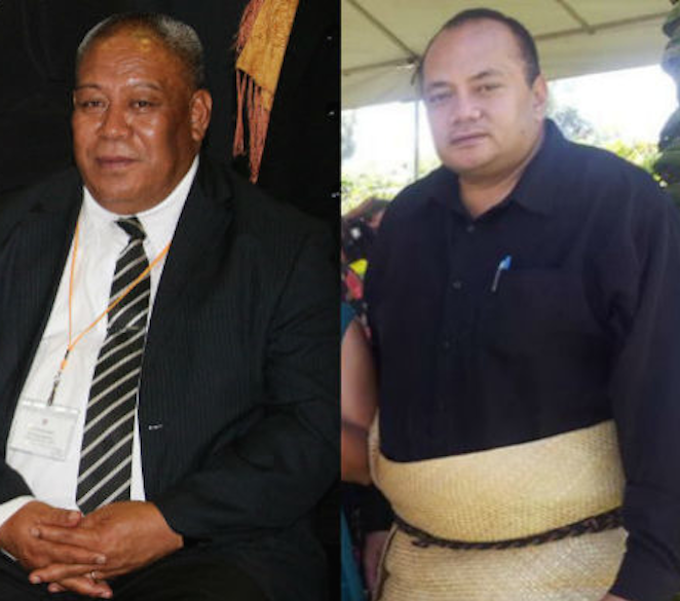 By Kalino Latu, editor of Kaniva News
Prime Minister 'Akilisi Pōhiva has fired Deputy Prime Minister Siaosi Sovaleni and Finance Minister Tēvita Lavemaau, says a cabinet spokesperson.
It is understood Sovaleni and Lavemaau were dismissed effective from yesterday at 5pm.
Pōhiva was "very disappointed" with the ministers, the spokesperson said today.
The ministers were allegedly involved in a conspiracy which led to King Tupou VI's decision to dissolve Parliament and order a fresh general election in November to replace the current MPs and cabinet.
Lord Maʻafu has been appointed the new Deputy Prime Minister while Poasi Tei took over Sovaleniʻs Ministry of MEIDECC.
Dr Pōhiva Tuʻiʻonetoa is the new Minister of Finance.
The dismissals came after state-owned Tongan Broadcasting Commission (TBC) news producer Viola Ulakai asked Pōhiva during a press conference in Nukuʻalofa on Tuesday whether it was true some of his ministers were being investigated.
Investigation denied
The caretaker Prime Minister denied this. Pōhiva said he was satisfied and calm. All the ministers were still in cabinet.
Ulakai told Pōhiva his son-in-law, Police Minister Māteni Tapueluelu, had told TBC News some ministers had been investigated.
Pōhiva said if anything would come up it will be "dealt with accordingly".
Sovaleni and Lavemaau have been contacted by Kaniva News for comment.
Justice Minister questions Speaker role
Meanwhile, the Minister of Justice has told Kaniva News there was no clause in the Tongan Constitution which said the king could dissolve Parliament on the advice of the Speaker.
Minister Sione Vuna Fā'otusia said this meant there was room to challenge in court the involvement of the Speaker in the decision.
King Tupou VI dissolved Parliament after he had received a recommendation from the Speaker of the Legislative Assembly, Lord Tu'ivakanō, who was Prime Minister before  'Akilisi Pohiva.
Acting Attorney-General Aminiasi Kefu had said the decision to dissolve Parliament was part of the king's royal prerogatives and it could not be challenged in court.
However, Fā'otusia disagreed and said the decision by the king, based on a recommendation from the Speaker, was not a royal prerogative, but was statutory.
"The Acting Attorney-General does not think so. But I think that there is a ground for judicial review as the decision was not royal prerogative, but statutory," Fāʻotusia told Kaniva News.
"There is nothing in the constitution to allow the king to dissolve the house based on the recommendation of the Speaker."
Tongan news is republished by Asia Pacific Report with the permission of Kaniva News.