By Kendall Hutt in Auckland 
Engaging with the Pacific and its stories of climate change is key to tackling the global issue, Catholic organisations have highlighted.
"It's about listening, it's about the margins and the peripheries," said Caritas Aotearoa New Zealand director Julianne Hickey.
Speaking at the Australasian Catholic Press Association's (ACPA) annual conference in Auckland last week, themed "Communicating for Our Common Home", Hickey said it was integral that the media carried stories and messages of hope, no matter how different these stories were.
"Climate change is affecting everyone in the world, but we all have different stories about how it is affecting us.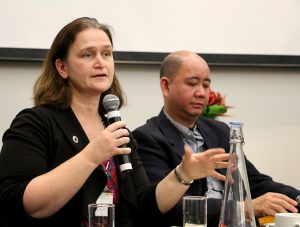 "In some places it's floods, in some places it's fire, in some places it's losing your home, in some places it's about food and water.
"We have to realise that we're interconnected and we need to be able to tell those stories and we need to be able to tell those stories of hope," she said.
John Pickering, director of communication for the Archdiocese of Suva, Fiji, told ACPA members Pacific culture provided answers and a "window of understanding" in the search for better solutions.
'Equal balance' responsibility
The greatest vehicle for this, he said, were provincial chiefs.
"A chief's responsibility is to ensure there is an equal balance of Mother Earth.
"When a chief accepts that first bowl of kava, what he promises to do is become the guardian, the protector, the custodian of people, of land, and sea."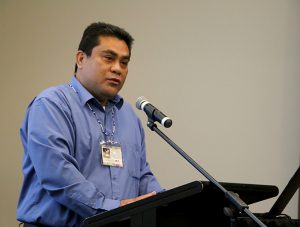 A further potential cultural source of climate change mitigation came in the form of totemism, Pickering said.
"Every Fijian has an animal, a fish and a wood and they identify themselves in terms of these.
"The point of that is respect, for the fish, for the wood, for the animal."
Pickering also highlighted what was at stake for the Pacific if more was not done to mitigate and adapt to climate change.
Identity, place, space
"Thirty four villages in Fiji are in danger of being swamped by water and they will have to be relocated. That changes the whole dynamic of understanding identity, place, and space."
Ultimately, Pickering said, the world was faced with a question:
"What sort of future will we leave for our children?"
Questions about the future were also centred on the media.
Lincoln Tan, New Zealand Herald's diversity, ethnic affairs and immigration senior reporter, said New Zealand's media was at a "crossroads" as it attempted to find the right model.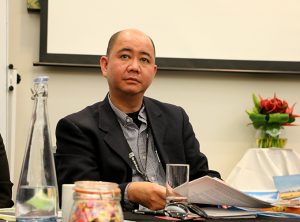 The downside of this transition, he said, was a "continued lack of ethnic diversity".
New Zealand media's "major issue" was subsequently a lack of cultural diversity, Tan added.
Pacific coverage lacking
Echoing Tan's concerns, Professor David Robie, director of the Pacific Media Centre, said one of the enduring problems with New Zealand media was the lack of depth and breadth of coverage of the Pacific.
"Coverage has actually declined in the New Zealand media in the past two decades in spite of the growing complexity of issues and problems facing the region," he said.
Dr Robie was on the programme as one of the speakers but was unable to attend because of a recent serious accident.
Speaking separately to Pacific Media Watch, he said the lack of in-depth reporting, with the notable exception of Radio NZ International, meant that when something happened like a coup in Fiji, the New Zealand public was caught by surprise.
"Lack of coverage of the West Papuan human rights situation, Papua New Guinea's slide into dictatorship and climate change in the Pacific are just some examples of the appalling gaps in the New Zealand media."
Reflecting on 'Communicating Truth in a Post-truth Environment' Dr Gavin Ellis, a senior lecturer in media and communication at the University of Auckland, said the media's over-reliance on social media had harmed good journalism and the media's role of reporting truth.
"I'm worried about a number of things that interfere with the pursuit of truth. First of all, social media being treated as legitimate primary sources. Twitter and Snapchat being used as journalistic publishing platforms," he said.
Media 'tipping point'
In this post-truth environment, Dr Ellis reflected the media, and the world, may be headed towards a "tipping point".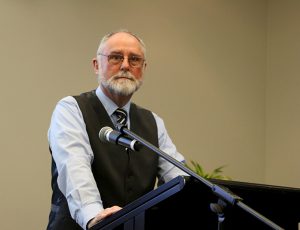 "I believe in what I call 'cathartic moments' and maybe we will reach a cathartic moment. Now of course a cathartic moment means you could go two ways, but I can only hope that common sense will prevail.
"We collectively need to start being heard in terms of ensuring we do not polarise our society. Most societies are happy in the middle and that's where we need to be."
But there was still hope, he said, if the media "stick with the elements of journalism".
"My strongest advice is to ensure there is real-time oversight by senior staff to ensure that in the fight to survive in the digital world, we don't lose sight of the values and practices that define journalism and its pursuit of truth in the public interest."