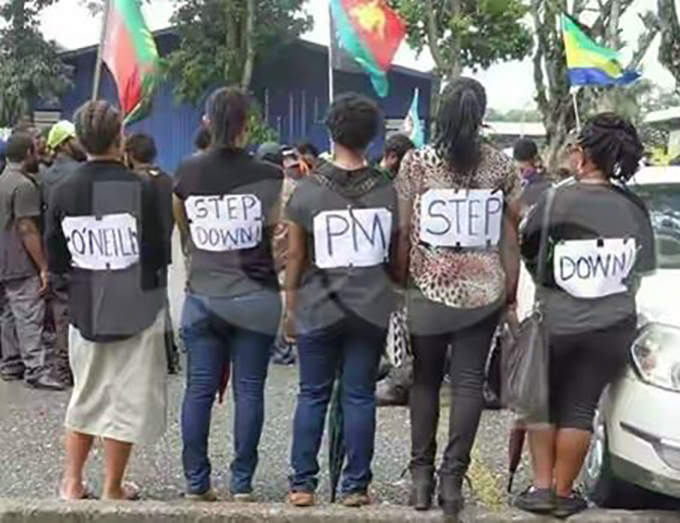 By Nellie Setepano in Port Moresby
Papua New Guinea's National Court has dismissed stay orders preventing the arrest of Prime Minister Peter O'Neill.
This means police can now execute the arrest on the prime minister.
This comes after a judicial review in relation to the June 2014 warrant of arrest for the prime minister which was dismissed by Justice Collin Makail in the Waigani National Court yesterday.
The former police commissioner Geoffrey Vaki had challenged the legality of the warrant of arrest that was issued by the District Court by chief magistrate Nerrie Eliakim on June 12,  2014.
Despite the judgment made on the dismissal yesterday morning, a second attempt by the prime minister's lawyer in the afternoon to delay the court orders for 14 days was made but failed.
Justice Makail said it was an abuse of court process and another attempt by the defendant to delay the court process.
Justice Makail said the defendant has the re-course in the Supreme Court.
Outside the court, director for National and Anti-Corruption, Mathew Damaru said it was now up to the police to issue a warrant of arrest.
Damaru said that the onus was on the police commissioner to act on the warrant and that it was out of respect of the office to leave it to commissioner Gari Baki to act on the warrant.
On June 12, 2014, a warrant of arrest was issued by Eliakim on the application of officers of the National Fraud Squad and Anti-Corruption Directorate.
This was in relation to allegations of official corruption made against the prime minister in relation to monetary benefits for Paul Paraka lawyers.
Loop PNG reports O'Neill's lawyers will be appealing the National Court's decision in the Supreme Court.
Nellie Setepano is a reporter with the PNG Post-Courier.