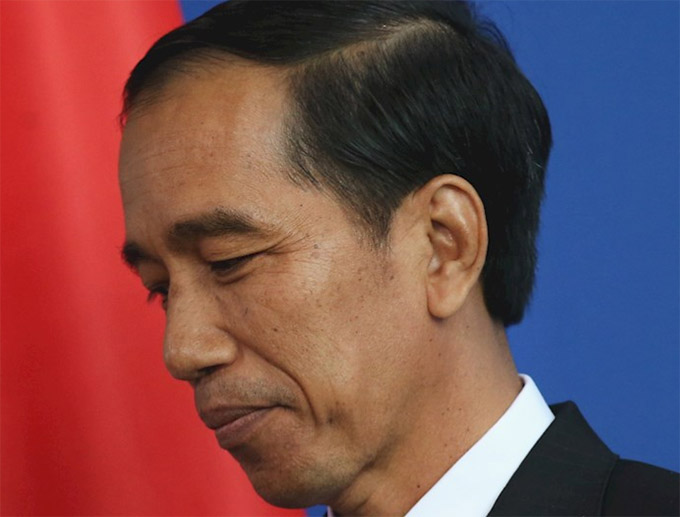 By Dames Alexander Sinaga in Jakarta
President Joko "Jokowi" Widodo has ordered law enforcers to shoot drug traffickers to deal with what he called a narcotics emergency facing the country.
"No mercy for foreign drug traffickers. We are currently in an emergency in terms of drug abuse," Widodo said.
The president spoke after police seized a ton of crystal methamphetamine worth Rp 1.5 trillion (NZ$151 million) in Serang, Banten, on July 13, 2017. The narcotic, locally known as shabu-shabu, was smuggled from China and constitutes the Indonesia's largest seizure to date, reports the state-run news agency Antara.
Police arrested four Taiwanese men who allegedly attempted to distribute the drugs in the greater Jakarta area. One of them was shot dead while resisting arrest.
Widodo said the police and the Indonesian Military (TNI) were working together to act decisively against drug traffickers.
"Now, the police and the TNI are really firm, particularly against international drug dealers who enter Indonesia. Just shoot them if they even show a little resistance," he added.
National police chief General Tito Karnavian was quoted by Antara as saying that drug smugglers were targeting Indonesia because they deemed the country's law enforcement efforts weak – unlike Singapore, Malaysia and the Philippines.
Drug traffickers 'rampant'
"Drug traffickers have noticed that, apart from the potential market, law enforcement officers may be weak to act. Our laws are considered weak; that causes them to become rampant in Indonesia," Karnavian said.
He said international drug traffickers have been given a stern warning not to consider Indonesia as one of their main destinations for the illegal drug trade.
"I have ordered the police to crack down and act tough, especially against foreign drug dealers. I have also told officers to act in accordance with their standard operational procedure, which also means shooting them if they resist arrest," Karnavian said.
Indonesia is not the only Southeast Asian country under threat from the widespread distribution of illicit drugs. The Philippines government under President Rodrigo Duterte declared war on drug pushers last year.
Extrajudicial killings in the Philippines have drawn condemnation from the international community and human rights groups.
Usman Hamid, country director for the United Kingdom-based rights group Amnesty International in Indonesia, said the statements by Jokowi and Tito may result in law enforcement officials on the ground committing unlawful actions, such as extrajudicial killings or summary executions, which constitute gross human rights violations.
"Duterte's war on drugs is the wrong kind of approach for a democratic country. Indonesia must look for a better approach or best practices from other countries," Hamid told the Jakarta Globe.
Shoot-on-sight policy
He added that Duterte declared war on drugs after the state imposed martial law with the approval of Congress. The implementation of Duterte's shoot-on-sight policy violates the country's constitutional law and other regulations.
Hamid said Jokowi and Tito's remarks could be regarded as a move to implement martial law in Indonesia. He added that their statements show a lack of understanding of basic norms of human rights and the rule of law.
The Jakarta Globe also reports an overdue election bill has finally been approved, which will serve as the legal basis for the 2019 presidential vote.
The bill, which is waiting to be signed into law by Widodo, requires presidential candidates to gain the support of a political party or coalition of parties with 20 per cent of the seats in the legislature as of the 2014 poll.
Candidates can also be supported by parties that won 25 percent of the vote in the election.
However, this has drawn criticism as fears emerge that the new threshold may limit the right to stand for election.
This comes as Indonesians will, for the first time in 2019, choose the legislature and executive on the same day.
Dames Alexander Sinaga is a reporter with the Jakarta Globe.