Pacific Media Watch Newsdesk
New Zealand broadcaster 95bFM and youth media company VICE have today announced a new content partnership that will see the two companies bring a daily news column to the country.
A fresh source of local and independent news — from media dedicated to "authenticity, quality and credibility"—News of Zealand coverage will offer a reliable, nuanced, and contemporary perspective on "social and political events that matter".
Researched through 95bFM's skilled, passionate news team and delivered to VICE's editorial team for publishing on VICE.com, 'News of Zealand' will cover broad local topics and events – from festival pill-testing to water-export tax and the latest in election news, as well as international news covering topics such as the liberation of Mosul or LGBTQ equality in Germany.
This daily digital feature will combine both organisations' reportage and storytelling skills, delivering the kind of content that engaged, switched-on New Zealanders care and talk about.
News of Zealand will be collected through a dedicated hub here.
About VICE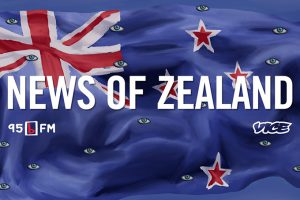 VICE is a global youth media company and content creation studio. Launched in 1994, VICE now operates in more than 30 countries, including New Zealand, distributing its programming to viewers across digital, linear, mobile, film and socials.
VICE includes an international network of digital channels; a television and feature film production studio; a magazine; a record label; an in-house creative services agency; a book-publishing division; and a newly launched TV network, VICELAND, which launched December 2016 on SKY New Zealand Channel 013.
VICE's award-winning programming has been recognised by the Academy of Television Arts and Sciences, Peabody Awards, Sundance Film Festival, Cannes Lions, Webby Awards, and New Zealand's Beacon Awards, among others.
About 95bFM


95bFM is New Zealand's largest alternative music radio station. Founded in 1969, Auckland's bFM has spent more than 45 years leading the curve in local and independent music and mindset.
Based at the University of Auckland, 95bFM is dedicated to promoting a diversity of local talent; from giving a platform to unknown musicians through to fostering up and coming voices in journalism and broadcasting.
In particular, 95bFM is highly regarded for its ambitious and independent news reporting, particularly its political coverage.
In the past, bFM has given a start to New Zealand media stalwarts Wallace Chapman, Jeremy Wells, Noelle McCarthy, Marcus Lush, Charlotte Ryan and has welcomed the return of its own native son, Mikey Havoc, to host the bFM Breakfast Show.
The Pacific Media Centre also collaborates with 95bFM to present its weekly Pacific Media Watch programme Southern Cross on Mondays at 12.20pm.