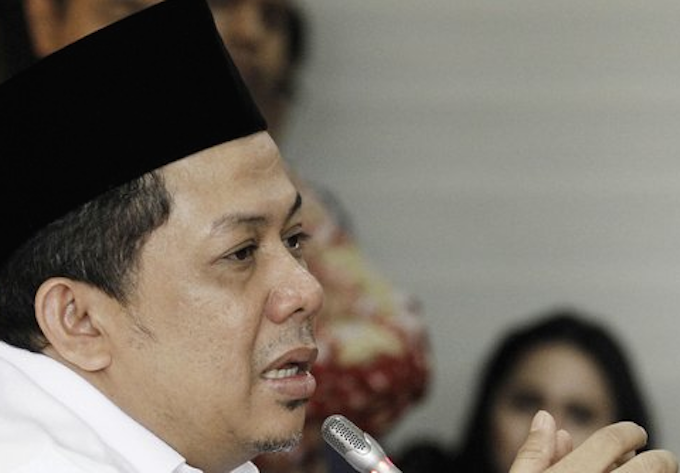 By Rizky Andwika in Jakarta
Indonesia's Coalition to Safeguard the National Human Rights Commission has conducted research on the track record of 60 National Human Rights Commission (Komnas HAM) candidate members.
The results of the research found that there were indications that some candidates have been involved in cases of corruption, gratification, are affiliated with radical groups, or have committed sexual violence.
Although House of Representatives (DPR) Deputy Speaker Fahri Hamzah was reluctant to comment on the 60 candidates, he has instead stated that Komnas HAM as a quasi-government institution is no longer needed.
Hamzah said that Komnas HAM, like the Corruption Eradication Commission (KPK), was no longer needed and called for the two institutions to be dissolved.
"[What's happened with] the Komnas HAM is like the KPK. There's a trend, I believe, what's happened is like this. These institutions are actually not needed anymore because basically the state has undergone a democratic consolidation and a strengthening of its institutions in terms of quality," he said.
Hamzah said that it was reasonable to dissolve the Komnas HAM because no one was prepared to commit human rights violations anymore. Moreover, he believed that human rights matters could now be dealt with by the Ministry of Human Rights and Justice (Kemenkum HAM) through the Human Rights Directorate General (Dirjen HAM).
The politikus [lit: political rat] from West Nusa Tenggara is proposing that human rights matters be handled by the Dirjen HAM which should be converted into a new institution that is not under the authority of the Kemenkum HAM so that it is independent.
Management 'increasingly disorderly'
"Currently if there are [human rights] violations you can hire law enforcement officials. Lawyers. In the end these institution's activities are no longer relevant. Because the activities of these institutions are no longer relevant, in the end their internal management has also become increasingly disorderly," he said.
Because of this therefore, Hamzah will submit a proposal to President Joko Widodo to dissolve the Komnas HAM, KPK and several other semi-government institutions. He cited 106 quasi-state institutions that should be dissolved.
"Of what use are they to us? They just waste money. Including the Komnas HAM, KPK," he said.
"Because they function within the state. So they are referred to as state auxiliary agencies because basically these functions are part of the state but in the past because they were deemed ineffective, [the Komnas HAM and the KPK] were considered necessary.
"Now if their function is within the state then what's the point of them? Just dissolve them."
Currently, the Komnas HAM, which is in the process of selecting candidate members for the period 2017-2022, has reached the stage of selecting the 28 best candidates. Sixty or so candidates underwent a public screening on May 17-18.
The Coalition to Save Komnas HAM's research into the track record of the 60 candidates covered indicators of their capacity, integrity, competence and independence.
Research results
The results of the research found that 19 candidates had a good level of competence, 23 candidates had a fair level of competence and five candidates needed a deeper understanding of human rights issues.
There were also five candidates that refused to provide information and seven candidates that failed to provide complete information.
"In terms of independence, 13 candidates were found to be affiliated with political parties, 13 were affiliated with industry or corporations and nine people had links with radical groups or organisations", said Indonesian Human Rights and Legal Aid Association (PBHI) director Totok Yulianto at a press conference in Cikini, Central Jakarta, on Monday.
According to Yulianto, if viewed in terms of capacity there were 11 candidates that had problems with cooperation issues, 16 candidates with communication issues, nine candidates with decision making issues, 12 candidates with performance issues and 12 candidates with problems in managerial principals.
"If viewed in terms of integrity five people were found to have links with corruption and or gratification issues, 11 people had issues with honesty, eight people were linked with sexual violence and 14 people had problems with the issue of religion", he said. [noe]
Translated by James Balowski for the Indoleft News Service. The original title of the report was "Fahri Hamzah minta Komnas HAM & KPK dibubarkan karena tak berguna".