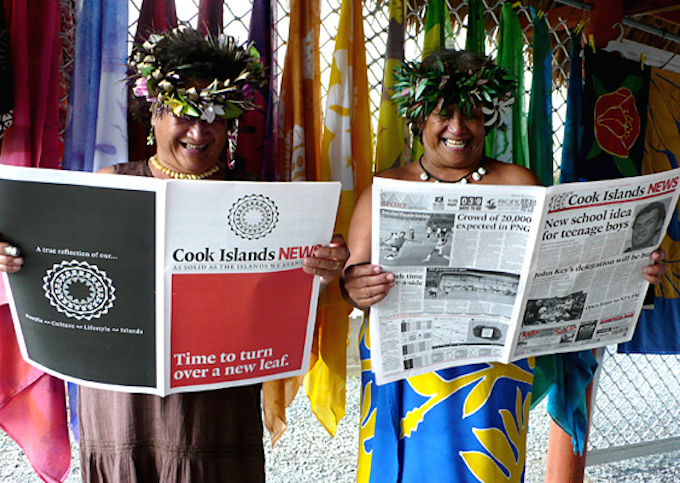 By Rashneel Kumar in Avarua, Rarotonga
The Cook Islands is part of a 12-nation research project to comprehensively map Pacific Islands journalism culture at a time of immense political, economic, technological and cultural change.
Part of the baseline research project entitled "Study of journalists, journalism culture and climate change reporting in 12 University of the South Pacific (USP) member countries", the Cook Islands leg was conducted last week.
The high-powered research team includes Professor Folker Hanusch (University of Vienna), Professor David Robie (director of the Pacific Media Centre at Auckland University of Technology) and Dr Baljeet Singh, a specialist in social and economic survey methods at USP.
The researchers envisage that the study will provide media companies, journalism academics and policy makers a deeper appreciation of the worldviews and changes taking place in the professional orientation of Pacific journalists.
Research team leader and project manager Dr Shailendra Singh, journalism coordinator at USP in Suva, Fiji, was in the Cook Islands last week collecting data relevant to the research.
He said the news media sector in the Cook Islands had been co-operative and responded strongly to the survey.
Dr Singh said that in his time in the Cook Islands he had noted how the national news media faced many challenges in terms of human and technological capacity, but at the same time it was fairly robust and resourceful.
Committed media sector
"The media sector is driven by some very committed and technologically adept individuals investing personal time and funds for sometimes very little return. They see it as a hobby, a calling and a labour of love," said Dr Singh.
Journalism, considered to be a crucial pillar of any democracy, was changing radically throughout the world, said Dr Singh.
He said rapid technological advancements and other influences, such as social media and citizen journalism were transforming the role, functions and very meaning of journalism.
Pacific news media had not been spared, even if the changes may be occurring at a slower pace, added Dr Singh.
"In this climate, the USP research seeks to provide a comprehensive overview of journalists' professional views in order to better understand Pacific journalists and journalism."
Factors include the conditions under which journalists operate, the kinds of pressures they face and how they might deal with them, and the social functions of journalism in a changing world.
"Such research is crucial during a time of major upheavals taking place within the institution of journalism globally and the Pacific news sector cannot be left behind during this history-making period," said Dr Singh.
So far Samoa, Solomon Islands, Tonga and Tuvalu have been surveyed, with Fiji and Vanuatu to follow shortly.
Besides USP, the research has received funding from the United States Embassy in Suva (Fiji, Kiribati, Nauru, Tonga, Tuvalu); the Australian government-sponsored Pacific Media Assistance Scheme (PACMAS), administered by Australian Broadcasting Corporation; and the Pacific Media Centre (Auckland University of Technology).
Rashneel Kumar is a Cook Islands News journalist and a graduate of the University of the South Pacific regional journalism programme.