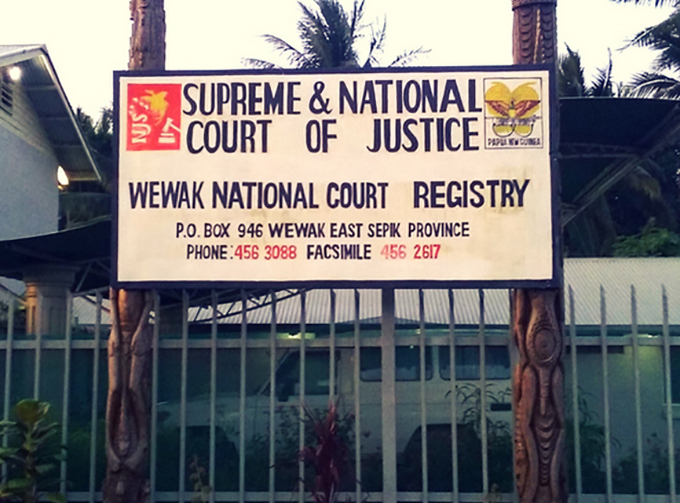 By Sally Pokiton in Wewak, Papua New Guinea
A former Papua New Guinean police station commander, Chief Inspector Sakawar Kasieng, has been sentenced to seven years in prison for arson and four of his officers were convicted for raping a 17-year-old girl at her family home almost four years ago.
They were each sentenced in the National Court at Wewak to 20 years in prison.
Former Wewak police chief Kasieng, of Sibilanga Village, Sandaun Province, spent four months in custody prior to being sentenced yesterday. He will now spend six years and eight months in hard labour.
Robin Weibi of Tomonoum Village, Nuku, Sandaun Province, Timon Kangapu of Hirae Village, Kopiago, Southern Highlands Province, Stanley Moui Jombu of Passam, East Sepik Province, and Nigel Tianguma Harvey of Mikarew area, Bogia, Madang Province, were each sentenced to 20 years.
They also spent four months in custody. They will now spend 19 years and eight months in jail with hard labour.
They were found guilty and convicted for aggravated rape of the teenager in her room at Kwanumbo Village in the early hours of 7 December 2013.
The victim, who is now 21 years old, gave evidence in court during the trial with her mother and father.
Her father was serving a 40 years in jail sentence for murder when he and other prisoners escaped.
Dawn raid
On 7 December 2013, at least 15 policemen, led by Chief Inspector Kasieng, with the assistance of civilian informants, conducted a dawn raid on a hamlet at Kwanumbo Village, Boikin, East Sepik Province.
This was to capture a number of prison escapees, including the rape victim's father.
The court heard that during the raid, two houses were torched, items were stolen and the escapees were apprehended and tied up. One escapee had his leg shot at after he had been restrained.
The four named policemen then entered the victim's house and raped her. Her hands and legs were held onto the floor as each one took his turn to rape her.
When the victim's mother complained to Chief Inspector Kasieng, she was told to shut up and on the police chief's orders, she was assaulted and restrained by policemen.
On their arrest, Inspector Kasieng and the four policemen exercised their right to remain silent.
Justice George Manuhu handed down the sentence in Wewak yesterday after he heard a submissions on the sentence by the accused's lawyer on Monday.
During submissions on Monday, each of the convicted prisoners of the state expressed remorse and willingness to pay compensation.
Failure to control
Former Chief Inspector Kasieng admitted his failure to control the operation, which resulted in the burning down of two houses, the shooting of Joel Pokip in the legs, and the sexual assault on the teenager.
"In any case, the four of you knew the law and you knew that sexually assaulting someone is against the law. So the four of you cannot place all the blame on Kasieng," Justice Manuhu told them in court.
The court also noted that it was not Kasieng's first time in court. He had previously been in court for assault and he had failed to pay court-ordered compensation.
"These reports do not help him at all," the judge told him.
"Fortunately, the victim did not contract any sexual disease, she did not become pregnant, there is no evidence of any mental issues, and she did not suffer from any physical injuries. In relation to the burning down of the house, there was no evidence on the value of the house. These are the factors that are in your favour.
"Against you is that as policemen, you were charged with the responsibility to uphold the law and by virtue of that law, you have a duty to protect the citizens of this country.
'Acted like criminals'
"But look at what you have done. You acted in contradiction to your duty and committed crimes against the people you were supposed to protect.
"You acted like criminals, all of you," Justice Manuhu told them.
He said the warrant issued by the court did not authorise them to burn down houses and sexually assault the teenager.
"I don't know what went through your heads in those two hours you were in the village. You have brought shame upon all of us as officers of the law."
He said the undisciplined behaviour of policemen in Papua New Guinea was prevalent and destroying the country, and that people awere fed up with hearing about undisciplined policemen.