EMTV News bulletin on the Highlands joint security forces parade in Mt Hagen.
Pacific Media Centre News Desk
Papua New Guinea's police have opened the first national communications centre for the 2017 General Elections and it is now in operation.

The centre was launched after the opening of the Highlands security elections operations in Mt Hagen on Friday, Loop PNG's Annette Kora reports.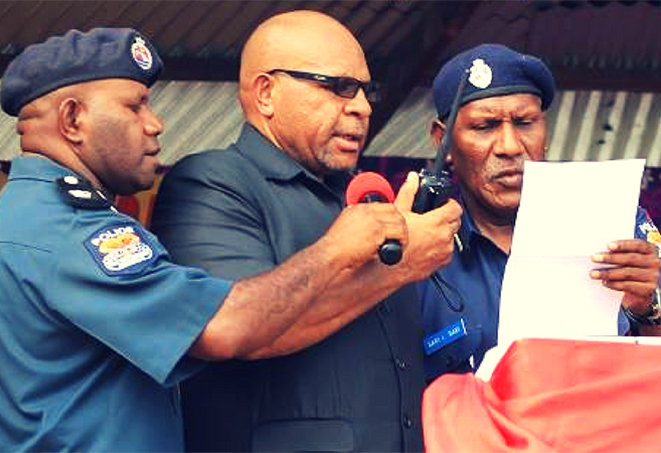 A demonstration of direct communication between the communications centre in Port Moresby and the Chief Secretary, Isaac Lupari, and Police Commissioner Gari Baki — both present at the Mt Hagen launch — was a feature of the event.
Lupari announced over the police radio network that as well as the launching of the Highlands region security operations, operations were under way for the entire country.
Commissioner Baki said the police hierarchy was confident that the launching of the communications command centre would have police connect to the rest of the country.
This would boost the successful progress of this year's election.
The communications centre is in the Konedobu police headquarters.
Joint security forces parade
Vasinatta Yama of EMTV News reports that the Highlands joint security forces parade was the largest in the country.
Police Commissioner Baki hosted the parade and Chief Secretary Lupari was the reviewing officer.
Heads of the three disciplinary forces were joined by other heads of department, election managers of the seven Highlands regions and also provincial police commanders.
Baki told the parade forces to take pride in their uniforms and ensure the 2017 National Election did not fail.
Brigadier-General Gilbert Toropo told EMTV News that the PNG Defence Force had committed 500 personnel to support the Electoral Commission.
Torop said thorough preparation, training and planning has already been done by PNGDF and deployments of soldiers had already started this week to the Highlands, Yama reported.
The soldiers will provide transportation, including aircraft and ships for air and sea patrols.
Before and after the counting, the PNGDF will transport the ballot boxes to and from the polling and counting areas.
Correctional Services Commissioner Michael Waipo said that the main focus would be on the prisoners, but they would assist the mobile squad with manpower.
At least 500 CS staff would be deployed to help provide security.
Prisoners eligible for voting were those of voting age and who had been living in prison for more than nine months.