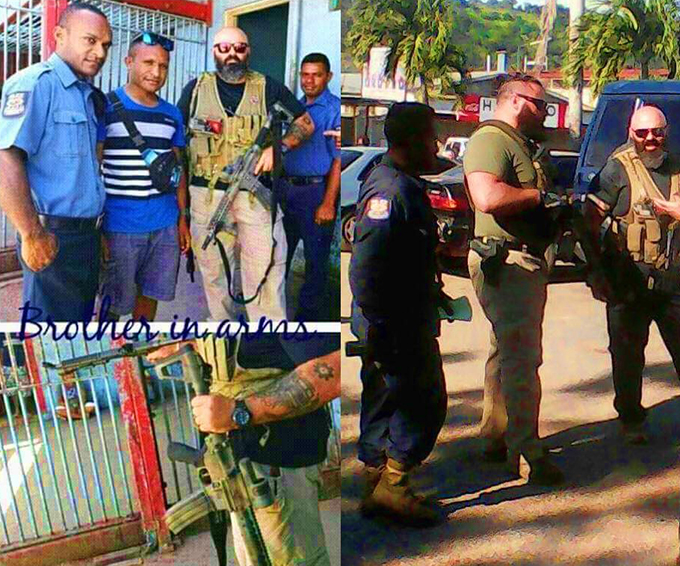 Pacific Media Centre News Desk
An online and television news service has reported concerns over "confusion" about recent sightings of armed expatriate men in the Papua New Guinean capital of Port Moresby.

TVWan News and Loop PNG carried reports at the weekend and some social media outlets and blogs have also carried images and sketchy reports.
"Pictures were posted online causing people to question and speculate about the reasons behind the men being in the country," reported Loop PNG along with a video clip, saying that TVWan News would "investigate more".
In February 1997, the Sandline affair involving foreign mercenaries threw Papua New Guinea into turmoil.
The military arrested 44 mercenaries brought into the country from Australia, Britain and South Africa to be engaged in the Bougainville war by the Sir Julius Chan government.
Chan was forced to resign the following month. The crisis was named after Sandline International, a British-based private security contractor.
Meanwhile, Loop PNG also reported that more than 100 international electoral observers would be arriving in the country to support Papua New Guinea's 2017 National Election.
International observers would arrive and depart at different times from May through to July.
The sponsors of international observer teams – such as the Commonwealth, Australian National University and various diplomatic missions in Port Moresby- will be arranging their own logistics to cover the event.
A media statement issued by the United Nations Development Programme (UNDP) on Sunday said more than 12 groups would be taking part in the 2017 National Elections Observer Mission.
100 international observers
UNDP  is supporting the 2017 National Election in Papua New Guinea (PNG) by coordinating more than 100 international observers.
However, in accordance with UN policy on electoral assistance, UNDP is not observing the elections and will not issue any statement on the elections or involve itself in the substance of any of the international observers' work or statements.
UNDP is responding to a request from the PNG Electoral Commissioner, Patilias Gamato,
Roy Trivedy, UN Resident Coordinator and UNDP Resident Representative, welcomed the invitation by the PNG Electoral Commission to provide support to the election: "We're delighted to be able to coordinate the presence of international election observers across the country to help ensure free and fair elections.
"These observers play a critical role in helping promote and protect the civil and political rights of participants in elections. They will help monitor things like freedom of movement and their presence will help to deter  manipulation as well as strengthen reporting of such problems if they do occur,"
UNDP is the largest provider of electoral assistance in the UN system. It has been involved in supporting the electoral cycle in more than 58 countries and most recently in Papua New Guinea in Bougainville's 2015 General Elections.
The Papua New Guinea general election runs from June 24 to July 8.