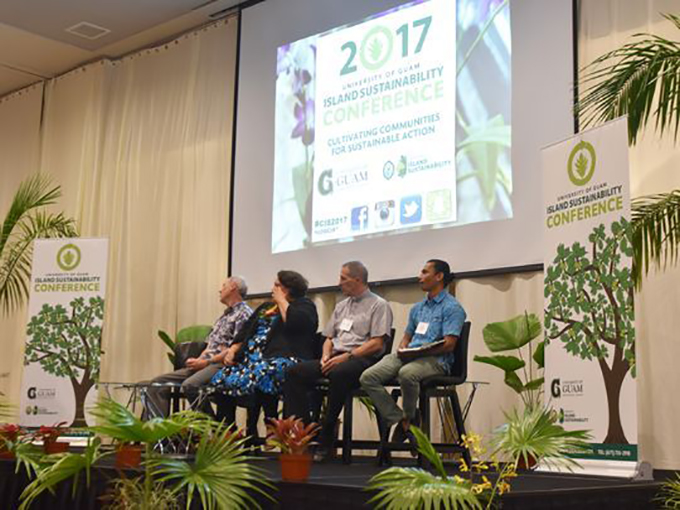 By John I. Borja in Hagåtña, Guam
The social aspects of climate change must be considered in efforts to protect the environment, says Guam's coadjutor archbishop.
Archbishop Michael Byrnes was on a climate change panel for the University of Guam's eighth Island Sustainability Conference.
Aside from his position with the church, Byrnes has a science background, with a bachelor's degree in microbiology.
He was joined by Kate Brown, executive director of Global Islands Partnership; David Helweg, director of Pacific Islands Climate Science Center and Xavier Matsutaro, national climate change coordinator of Palau.
"Climate not only changes the community. The community changes climate," Byrnes said. He referenced Pope Francis' letter on "integral ecology," which is the idea of preserving the nature of the world to protect those most vulnerable.
Byrnes said that for people who followed the Bible's teachings, there was a moral responsibility to treat the Earth well.
Disregarding the nature of the Earth was a misunderstanding of God's intentions, he said.
Efforts of many
It took the effort of many to make aware the impact of climate change, Brown said.
Brown was the keynote speaker for last Thursday's conference. In her speech, she shared how sustainable actions were being implemented in the Pacific islands.
UOG President Robert Underwood asked the panel how they responded to people who did not believe in climate change, despite years of scientific research.
Helweg said one reason climate change was not being accepted was because of poor translation of the scientific research. A deeper connection needed to be made with those people to help them understand, he said.
"We need to go out into the community, in the villages and work with them to find out what they value highly," Helweg said.
That way, information about climate change could be transformed to relate to their needs, he said.
Matsutaro said an economic factor sometimes played a role in people oblivious to the impact of climate change. The coal industry, for example, could harm the environment but it was also a necessary industry for revenue in some areas.
"If you know that you are extracting resources and you know that that resource is causing environmental problems, at some point you're going to have to shift that behavior," Matsutaro said.
Everybody wants to live in a clean environment. Parents would want their children to be in a healthy environment, he said.
John I. Borja is a Pacific Daily News reporter.