University of the South Pacific student journalists talk about climate change and their daily lives — and the future. Video: Julie Cleaver/Kendall Hutt/PMC
By Julie Cleaver and Kendall Hutt in Suva
Pacific journalism students in Fiji say reporting climate change is crucial for the survival of the region.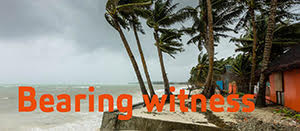 The University of the South Pacific students say educating people about the issue throughout the region and the world is a key factor when it comes to "saving" the Pacific.
"Covering climate change is important for me because my country's life and my country's peoples' lives are at stake, so I need to let institutions outside my country know that we are facing the effects of climate change, and its severe effects that we're facing," says Shivika Mala, a third-year Fiji journalism student who is also majoring in politics.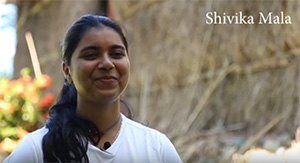 Mala also says it is time for the global media to pay more attention to the Pacific's current situation and not just focus on natural disasters.
"Climate change is happening. This is the reality and it's about time journalists and other people who don't necessarily believe in climate change to start doing their research and start understanding the challenges, the implications, and the impact it has on not only the Pacific countries, but other countries as well," says Mala.
She says this is because the homes and lives of herself and her peers have already been affected.
Climate change 'something personal'
"Climate change for me is something personal. It's something that effects my country and the Pacific and the world as well. Climate change for me means loss of life, and loss of loved ones."
For Vilimaina Naqelevuki, a 20-year-old journalism and politics student, her village, Narikoso, on Ono Island in the Kadavu group, has already suffered great loss.
Nariko has been suffering from the impacts of climate change and therefore believes the island's younger generation will lose their sense of culture, Naqelevuki says.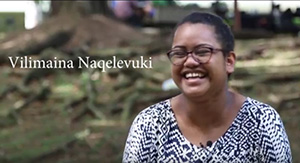 "I was fortunate enough to have met my great-grandmother, she passed away six years ago. She tried to talk and teach us as much as she possibly could about what was left of the island.
"It's a little bit emotional and every time I talk about it I get really sad, because I know for a fact that within the years to come I won't have an island left to go back to, and that just saddens me a lot."
For Semi Malaki, who is studying a double-major in journalism and politics, climate change has also already become a reality in his home country, Tuvalu.
"For us in Tuvalu it's more to do with the security and survival of our people, because we all know climate change causes the sea level to rise."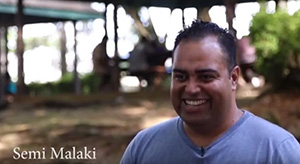 Changed food lifestyle
He also says climate change has changed the lifestyle of people in Tuvalu, particularly regarding food. This is because the rising sea level makes it difficult to grow food as salt water contaminates crops.
"People now are now less dependent on root crops and more dependent on imported foods from overseas, and that's had a lot of impact on our diets.
"This has health impacts on non-communicable diseases, like lots of Tuvaluans have suffered from diabetes and high blood pressure due to the change in their diets."
He also says people are migrating away from Tuvalu because of the fear that the country might sink one day.
Due to forced migration, culture and traditional ways of life is also at stake for Pacific people.
Loss of culture
"What climate change does is remove these people from their traditional and everyday lives and completely sends them somewhere else. They have to restart their lives again," says Mala.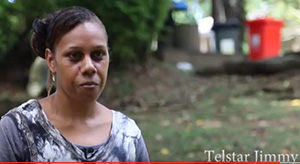 For Vanuatu, where the population largely relies on subsistence farming, losing culture is already a fact of life, says Telstar Jimmy, a mother of three who is completing a double major in journalism and language and literature.
"Sixty-five percent of our population relies on subsistence farming. That's naturally their way of life. All they know is how to grow crops and also how to fish.
"That's been a major part of their lives and changing weather patterns is affecting that because our ancestors used to know when to go fishing or which places to do their fishing. But now, because of changing weather patterns it affects that cultural knowledge we used to have."
Additionally, Jimmy says one of Vanuatu's 100 plus languages has already been lost as a result of climate change migration.
"In some places where we had different dialects, when we had to relocate them to another place and in order to adapt to the particular environment, they have to use the bigger languages to communicate with the people there.
"As they use more of the bigger languages, they lose the smaller languages that were originally there and that is why some of our languages have already begun to be lost."
For Jimmy, Mala, Malaki, and Naqelevuki, their message for the world is clear: climate change is real.
"Climate change is happening to us. We're going to lose our land, we're going to lose our culture and our identity if we don't do anything about it."
Julie Cleaver and Kendall Hutt are in Fiji for the Bearing Witness project. A collaborative venture between the University of the South Pacific's journalism programme, the Pacific Centre for the Environment and Sustainable Development (PaCE-SD), the Auckland University of Technology's Pacific Media Centre and documentary collective Te Ara Motuhenga, Bearing Witness seeks to provide an alternative framing of climate change, focusing on resilience and human rights.