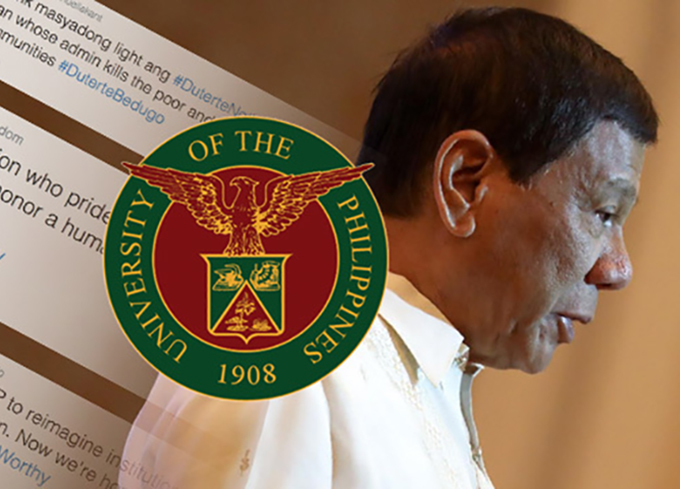 An honorary doctorate degree for President Rodrigo Duterte? Not if students at the internationally renowned University of the Philippines can help it.
Several students and alumni of UP spoke up against the Board of Regents' (BOR) offer of a Doctor of Laws, honoris causa, degree to the President.
The motion to confer this was initiated by Senator Regent Francis Escudero and seconded by Regents Farolan and Jimenez.
Students and alumni have heavily criticised this move on social media: "Giving honor to a man who challenges basic human decency, discourages public dissent, promotes a culture of impunity, and lauds extra-judicial killings, UP has taken a major step backward in upholding Honor and Excellence."
The Office of the Student Regent also released a statement to condemn the offer.
The statement read: "Honors are not deserved by a president whose regime killed thousands of citizens and leaders of progressive groups under Oplan Tokhang and Oplan Kapayapaan.
"Honours must not be given to a president that declares all-out war against his people to quell their struggle for just and lasting peace, and reimposes death penalty to legitimise the killing of the poor."
Highest policy body
The UP Board of Regents is the university's highest policy making body.
Chairperson Patricia Licuanan of the Commission on Higher Education (CHEd) said Duterte had been offered the honorary doctorate as part of tradition.
Licuanan co-chairs the Board of Regents with UP President Danilo Concepcion.
UP offers the honorary doctors degree to Philippine presidents, usually in their first year in office. Former President Benigno Aquino III was also conferred the degree when he was speaker at the 2011 UP Diliman campus graduation.
"In keeping with tradition, UP is conferring an honorary doctorate on the President. President Duterte has yet to accept," Licuanan said in a text message to media.
The hashtag #DuterteNotWorthy trended on Twitter. Here is what they had to say: