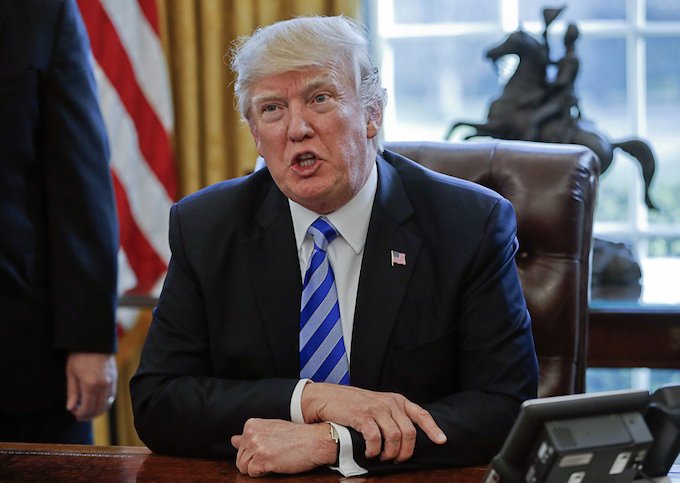 By Anton Hermansyah, Stefani Ribka and Tama Salim in Jakarta
A week after seeing a petition against Indonesia's biodiesel, the country has seen another blow in its trade with the United States after President Donald Trump called for an investigation into the "trade imbalance" between the US and 16 countries, including Indonesia.
Trump had promised to crack down on "cheating foreign importers" by signing two executive orders on Friday. He gave 90 days for his administration to develop and implement a strategy for combating "violations of US trade and customs laws".
"The Secretary of Homeland Security shall, in consultation with the Secretary of the Treasury, the Secretary of Commerce and the US Trade Representative, develop a plan that would require covered importers that, based on a risk assessment conducted by the CBP [Customs and Border Protection], pose a risk to the revenue of the US, to provide security for antidumping and countervailing duty liability through bonds and other legal measures," Trump wrote in his executive order.
READ MORE: Fears for Indonesian park's rare species as Trump town rises
Indonesia was in the 15th position on the list, with US$13 billion in trade surplus over the US, followed by Canada with $11 billion surplus. China was in first with a $347 billion surplus followed by Japan, Germany, Mexico, Ireland, Vietnam, Italy, South Korea, Malaysia, India, Thailand, France, Switzerland and Taiwan.
Responding to the development, Trade Minister Enggartiasto Lukita said the government would closely monitor the situation and soon collect data regarding Indonesian products with the potential to be hit by the US probe.
"For now, we will evaluate our export commodities that could potentially be questioned by the US. We will also ask for our representative in Washington, DC, to watch and monitor [the situation]," he said.
The US market received $15.68 billion in non-oil and gas exports from Indonesia last year. The main commodities shipped to the US were mostly footwear, textiles, fisheries products and natural resources while the US exported aircraft, soybeans and machinery.
Anti-dumping duties
In his executive order, Trump called for the collection of anti-dumping duties that must be paid to the US. According to the US Accountability Office, there were more than $2.3 billion uncollected anti-dumping and countervailing duties to the country since 2001.
On March 23, US-based commercial trade association National Biodiesel Board (NBB) filed a petition with the US Department of Commerce and the US International Trade Commission to impose anti-dumping and countervailing duties on imports of biodiesel from Indonesia.
Institute for Development of Economics and Finance (INDEF) economist Bhima Yudhistira Adhinegara said the anti-dumping measures would not affect much of Indonesia's accumulative trade.
"Like textiles and footwear, we booked the surplus not because of dumping but because US workers did not want to make those goods due to high labor cost. That is why US brands such as Nike shifted their jobs to Indonesia," he said.
He chose to believe that the main target of the measure was actually China, as Chinese President Xi Jinping was scheduled to visit the US and hold a bilateral meeting with Trump in Florida next week.
Indonesian Employers Association (Apindo) fisheries division chairman Thomas Darmawan said Indonesia's export goods to the US were totally different from those of China. Indonesia mostly exported natural resource products such as rubber, coffee and seafood while most of China's exports were end-products.
'Difficult position'
"If they put a barrier [on Indonesian goods], they will put themselves in a difficult position," he said.
Center of Reform on Economics (CORE) executive director Mohammad Faisal said Indonesia should join forces with other countries to appeal to the World Trade Organisation against Trump's accusation.
However, the Foreign Ministry?s director general for American and European affairs, Muhammad Anshor, remained hopeful that the issue would not be raised in the upcoming visit of US Vice President Mike Pence to Indonesia.
Trump's deputy is scheduled to visit Indonesia later this month as part of his tour around the region, which includes stopovers in Japan, South Korea and Australia.
Anton Hermansyah, Stefani Ribka and Tama Salim are journalists with The Jakarta Post.