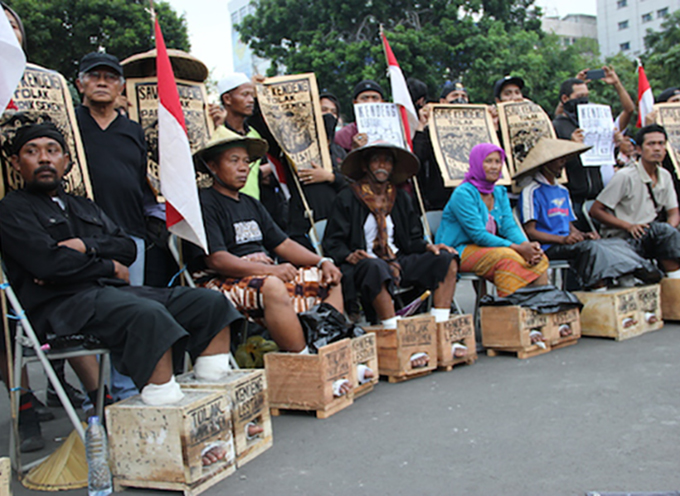 The church in Indonesia has lent its weight behind an ongoing demonstration outside the presidential palace by Javanese farmers protesting against the establishment of a cement factory, which critics say would invite an environmental disaster.
Farmers from several villages in Central Java province's Rembang district, who started their protest last week by having their feet encased in concrete, were joined by environmentalists on March 20. The church also offered a message of support.
"This protest symbolises our life which will be shackled by the factory," said Joko Prianto, coordinator of the protest.
He said the factory would ruin the quality of groundwater in the Kendeng karst mountain range.
"The groundwater basin must be protected. If not, we will face drought during the dry season and floods during the rainy season," he said.
The construction of the PT Semen Indonesia factory began in 2014 but protesters have doggedly delayed it. It was due to begin operating in April but the launch has been delayed, according to local news reports.
Responding to the farmers' protest, PT Semen Indonesia Corporate Secretary Agung Wiharto said the company had offered a number of solutions, including employing a so-called block mining system to prevent water pollution.
Support for farmers
Father Aloysius Budi Purnomo, chairman of the Commission for Ecumenical and Interreligious Affairs of Semarang Archdiocese, supported the farmers.
"They fight because they see nature being damaged due to the exploitation of natural resources. This is exactly what Pope Francis spoke about in his encyclical Laudato si," he said.
"The papal encyclical encourages the church to support those fighting for the integrity of creation," he added.
Similar support came from Muhammad Nurkhoiron from the National Commission on Human Rights.
"One of our commission's efforts is to protect the karst mountains' ecology for the sake of all people. The right to water is part of human rights," he said.
In April 2016, a similar rally ran for two days until presidential staff promised to schedule a meeting between the protesters and president. In August, they met with the president who said no permit would be issued until an environmental assessment was complete.
Experts involved in the assessment reportedly said that the factory's activities were feasible. On February 23, Governor Ganjar Pranowo issued a permit but the farmers do not accept the finding.