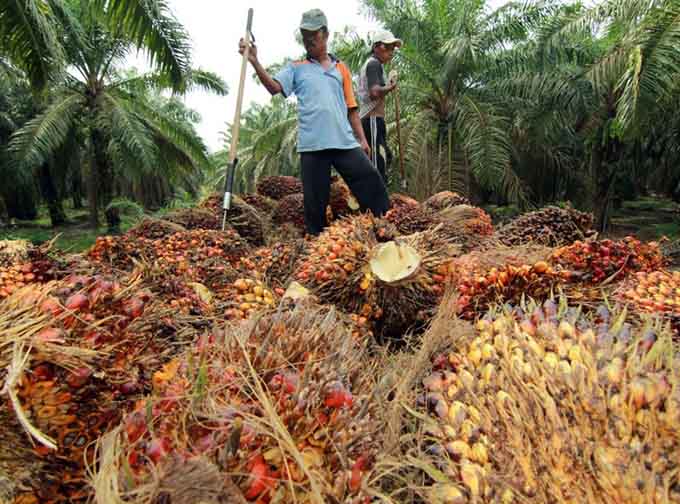 By Ratri M. Siniwi and Muham in Jakarta
Palm oil is an important commodity for Indonesia's economy, contributing US$17.8 billion, or about 12 percent, to its export revenue.
While this year the production of crude palm oil is likely to increase 16 percent, to up to
33 million tons, with expected conducive weather conditions, environmental issues and social conflicts continue to overshadow the sector's future in the world's biggest palm-oil producing country.
Just earlier this month, the European Parliament's Committee on Environment, Public Health and Food Safety (ENVI) approved a set of recommendations to the European Commission, which will phase out the use of palm oil as a component of biodiesel by 2020 and require exporters to prove responsible cultivation practices on their plantations.
A report prepared by the European Commission says that as the demand for palm oil is estimated to double by 2050, it poses severe environmental damages to oil-producing countries such Indonesia, Malaysia and others in Asia, Africa and Latin America.
Palm oil industry has been accused of causing deforestation, environmental degradation, and human rights violations ranging from land disputes to child labor.
The report is due for a vote in the European Parliament on April 3-6.
In response to the report, Indonesian experts, executives of an organization seeking to promote sustainable development, and a former government official, have started to defend the industry that employs millions.
Black campaign
"This is a real black campaign, involving conflicts of interests, and deriving from trade competitors," said Bayu Krisnamurthi, former Deputy Minister of Trade and Agriculture in President Susilo Bambang Yudhoyono's cabinet.
Bayu is now the chairman of the Indonesian Society of Agricultural Economics, which provides expertise to the agricultural sector.
In November 2013, the EU set duties of 8.8 percent to 20.5 percent for Indonesian palm oil producers to apply for five years. It argued that by imposing duty on the raw products, an advantage will be given to domestic producers.
The Indonesian government's is going to file a complaint to the World Trade Organisation against the duties.
Petrus Gunarso, a member of the Indonesian Forestry Scholars Association (Persaki), rebutted the claim that Indonesia's palm oil industry is the main contributor to the country's deforestation, claiming that most of the palm oil plantations, which currently cover about 11 million hectares, were previously rubber plantations.
Petrus said that many farmers had converted their plantations as the price of rubber has been declining and palm oil cultivation is more profitable.
"That's why the sizes of our rubber plantations have shrunk," he said, adding that plantations are also established on degraded forests, which the government classifies as non-forest estates.
'Not deforestation'
"By Indonesian law, that's not deforestation," Petrus said.
While palm oil producers may need to work more on convincing Europeans to buy their products, at home they have to deal with social conflicts, especially regarding land disputes.
The Indonesia Business Council for Sustainable Development, IBCSD, has commissioned a team to study the costs of these conflicts.
Using 2016 data from five plantations in Kalimantan and Sumatra, the team concluded, in a report titled "The Cost of Conflict in Oil Palm in Indonesia," that the tangible costs of social conflicts ranged from $70,000 to $2.5 million. The biggest direct costs were income losses due to disrupted operations.
The intangible costs, according to the report, ranged from $600,000 to $9 million, and were due to reputational losses, casualties and property damage.
The reputational losses, according to the study, affect the companies' ability to obtain loans, decrease the demand for their products and their stock market value.
"Conflicts are going to exist in all industries, it's our homework now to find the most feasible solutions for the companies and communities," said Aisyah Sileuw, president director of consulting firm Daemeter, which published the report.
As the infamous commodity makes the industry the most favorite one to bash on, Aisyah believes it is "impossible to get rid of it," not only because of the huge export revenue it generates, but also since 40 percent of the country's smallholders depend on palm oil.