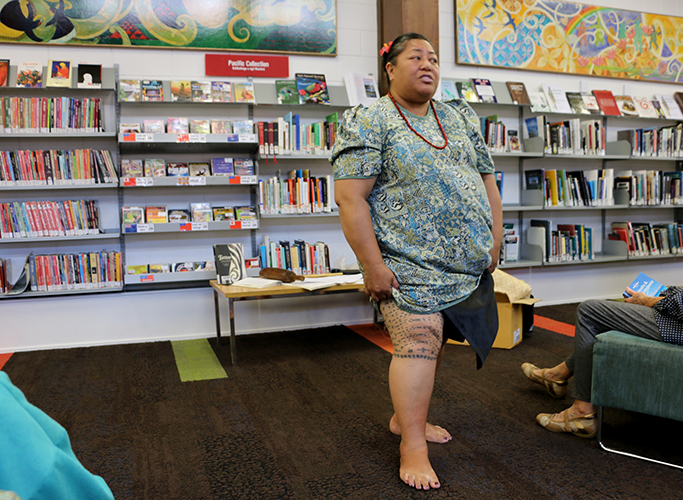 By Kendall Hutt
A small, enthusiastic crowd gathered among the shelves of one of Auckland's libraries earlier this week to listen to a lively and engaging talk on the practice of malu, the Samoan female tattoo.
The event, part of Papatoetoe Library's regular "Tea and Topic" programme, was organised to celebrate Pasifika, when every March the diversity of cultures throughout the Pacific region is marked.
The talk was delivered by Leota Alice Meredith, a Samoan-New Zealander who discovered an appreciation for her home culture when she travelled to Samoa in her early 20s.
Her motivation behind the talk was "giving back to community".
Meredith acknowledged she was not only inspired to speak about the malu, but to give her audience an opportunity to learn more about the Pacific and its people.
"I'm sure you have questions in regards to Pacific people and their mannerisms. I mean, look at what I'm wearing," she laughed with her audience.
'Main print'
Meredith described the malu, Samoa's female tattoo, as the "main print or tattoo on the back of the legs" and readily showed off her own.
"Thank goodness, I managed to remember to shave my legs this morning."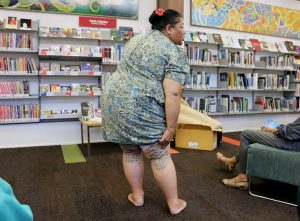 Tattooed in 1995 by the late Su'a Suluape Paulo – who was considered a master of his art – Meredith admitted she got through the four-hour ordeal by listening to the radio on her Walkman.
Meredith highlighted how the process of traditional tattooing involved three apprentices to the tattooist, some who begin training as young as seven or eight years.
"You learn by observation, so the sooner the better." The first of these apprentices or assistants is responsible for pulling the skin taught so the tattooist's tool bounces cleanly, while the second is responsible for diligently wiping away the blood.
The third assistant, Meredith jokingly added, was capturing the tattooist's ashes "from the constant train of cigarettes" he supplied Paulo.
She outlined how the mix of blood and water, a result of cleaning the malu, was not a pleasant smell for Paulo, while cigarette smoke was.
But when asked by one audience member if it was painful, Meredith replied:
'I wasn't going to stop'
"Oh, yes, four hours and I was lucky. I wasn't going to stop. As soon as he started I knew I wasn't stopping. Because I knew if I stopped, that might be game over before you know it, and I was very adamant I did not want to wear tights for the rest of my life."
But, as Meredith explained, the malu is not as painful as the male equivalent.
This is because the final part of the male tatau, or tattoo, consists of tattooing into the navel, which holds much spiritual significance because the umbilical cord symbolises life.
Importantly, malu also involves a journey, a journey Meredith explained must not be done alone.
"With the tattooing, you always go in partnerships. There's always a pair of you. They say you don't tattoo by yourself. It's because when you journey through anything that is painful, you don't journey alone. It's something in all of us, in life in general."
Malu also involves the "ritual" of cracking an egg over one's head upon the tattoo's completion "as a sign of renewal," Meredith said.
Meredith also explained to the audience the numerous traditions and norms behind Samoa's rich tattooing history, led by two families – Sa Su'a and Sa Tuluo'ena.
Revived the art
"The Su'a family literally revived the art of traditional Pacific tattooing, in the world," Meredith said.
She also not only described how there are certain times to display the malu – less one becomes cursed – but how the female tattoo in the past involved a certain hierarchy.
"Originally, only a chief's daughter could have the malu."
But, inevitably, as time has passed, the malu – and tatau itself – has evolved.
Meredith explained how this has largely come due to the introduction of health regulations, which has seen the turtle shell and bone of traditional tools replaced with titanium.
Debate has also raged about whether non-Samoans are entitled to bear the malu and tatau, and if women are entitled to wear male tattoos and vice versa, a debate Meredith chalked down to "pushing boundaries".
She could see where "traditionalists" were coming from, however.
"We're surrounded by cultural protocols in order to map our cultural significance."
Kendall Hutt is the Pacific Media Centre's Pacific Media Watch contributing editor.
The iconic Pasifika Festival celebrating its 25th birthday at Auckland's Western Park this weekend. More than 220 performance groups and 60,000 people reportedly took part.